Team Associated Wins A-Main Hobbies Manufacturers Cup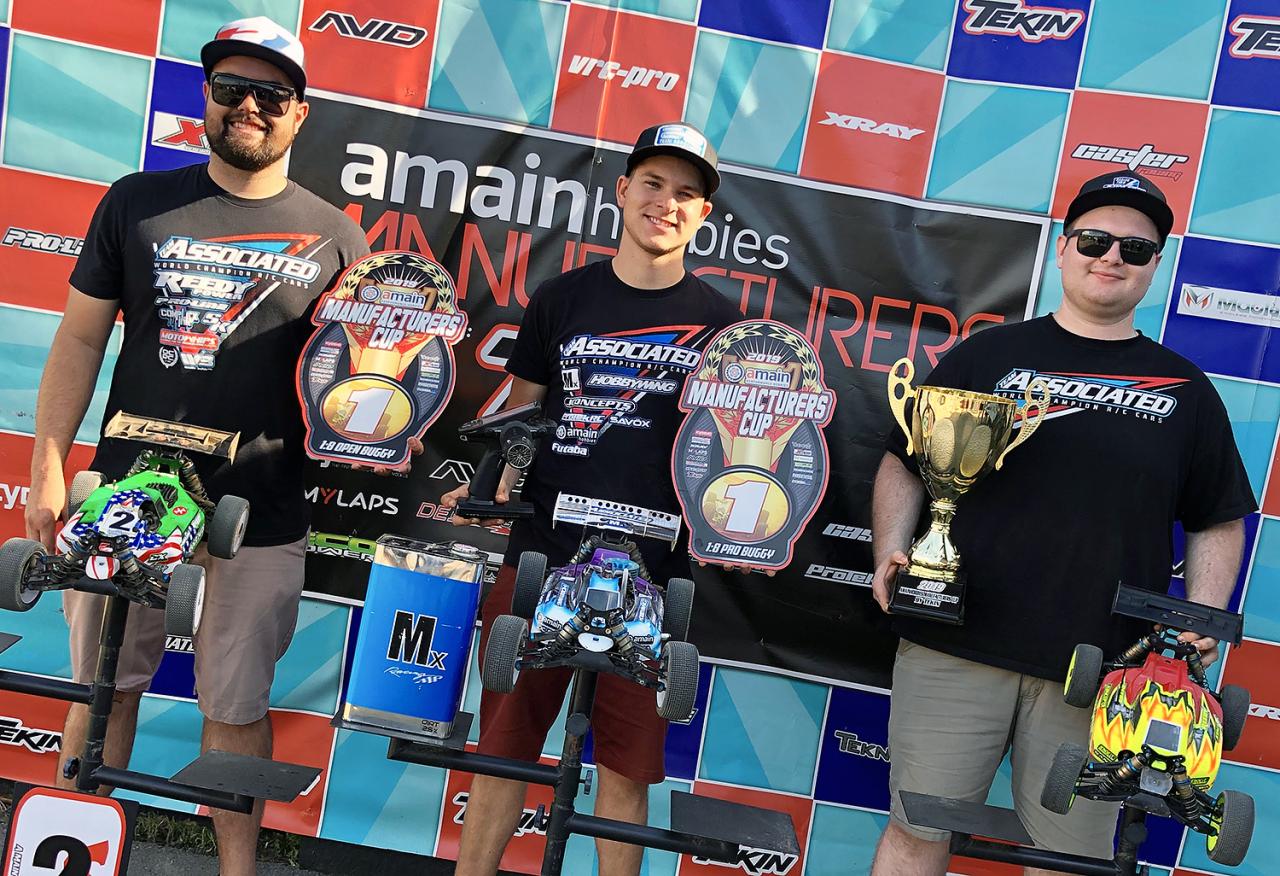 Silver Dollar R/C Raceway in Chico, CA hosted the 2019 A-Main Hobbies Manufacturers Cup, now in its third year. With a large and fast-flowing layout, the track and racing didn't disappoint. With water applied after each run it was a challenge to get a setup to match the changing conditions. The event has a unique format with three 14-minute qualifiers and a 14-minute main event. Additionally, there is an Invitational class that features heads-up starts where drivers earn points based upon their finishing positions. Then when all the racing is complete, a winning manufacturer is crowned based on the highest placed finisher in Open Nitro Buggy and the top two highest placed finishers in Pro Nitro Buggy.
In the Open Buggy and Truggy classes it was Team Associated's Nick Wautlet who took the double win with his RC8B3.1 and RC8T3.1. Nick's performance and his vehicles were impressive and bettered a field of fifteen in each class.
Team Associated also got wins in two 40+ classes, Nitro Buggy and Nitro Truggy. The victories belonged to Richard Saxton with his RC8B3.1 and Brian Curran with his RC8T3.1.
In the premier Pro Nitro Buggy class, Spencer Rivkin rallied from behind on Sunday to win the class with his RC8B3.1 against some stiff competition, all while setting the single fastest 14-minute run, which was used as a tiebreaker. Spencer was also able to win the Pro eBuggy class with his RC8B3.1 just ahead of teammate Alex Kosciuszek.
With wins from Rivkin and Wautlet in Pro and Open Nitro Buggy along with Kosciuszek's fourth-place finish in Pro Nitro Buggy, Team Associated won the overall team championship and the A-Main Manufacturers Cup! Thanks to everyone at Silver Dollar R/C Raceway for hosting the event and to all of the Team Associated supporters who came to race with us.
Products used
#80935 RC8B3.1 Nitro Team Kit
#80936 RC8B3.1e Team Kit
#80937 RC8T3.1 Nitro Team Kit
#27200 Reedy 1216-C2 Dual AC/DC Competition Balance Charger
#27313 Reedy LiPo Pro TX/RX 2400mAh 7.4V Flat
#27115 Reedy RT2706A Digital HV Brushless Servo
#27332 Reedy LiPo Pro Starter Box 2100mAh 20C 14.8V
#WeAreAE
Team Associated - Champions by Design
---