Team Associated's Spencer Rivkin Wins R.O.A.R. 1:8 Fuel Off-Road Nationals with RC8B3.1
Tuesday, Jun 25, 2019 at 12:00am CDT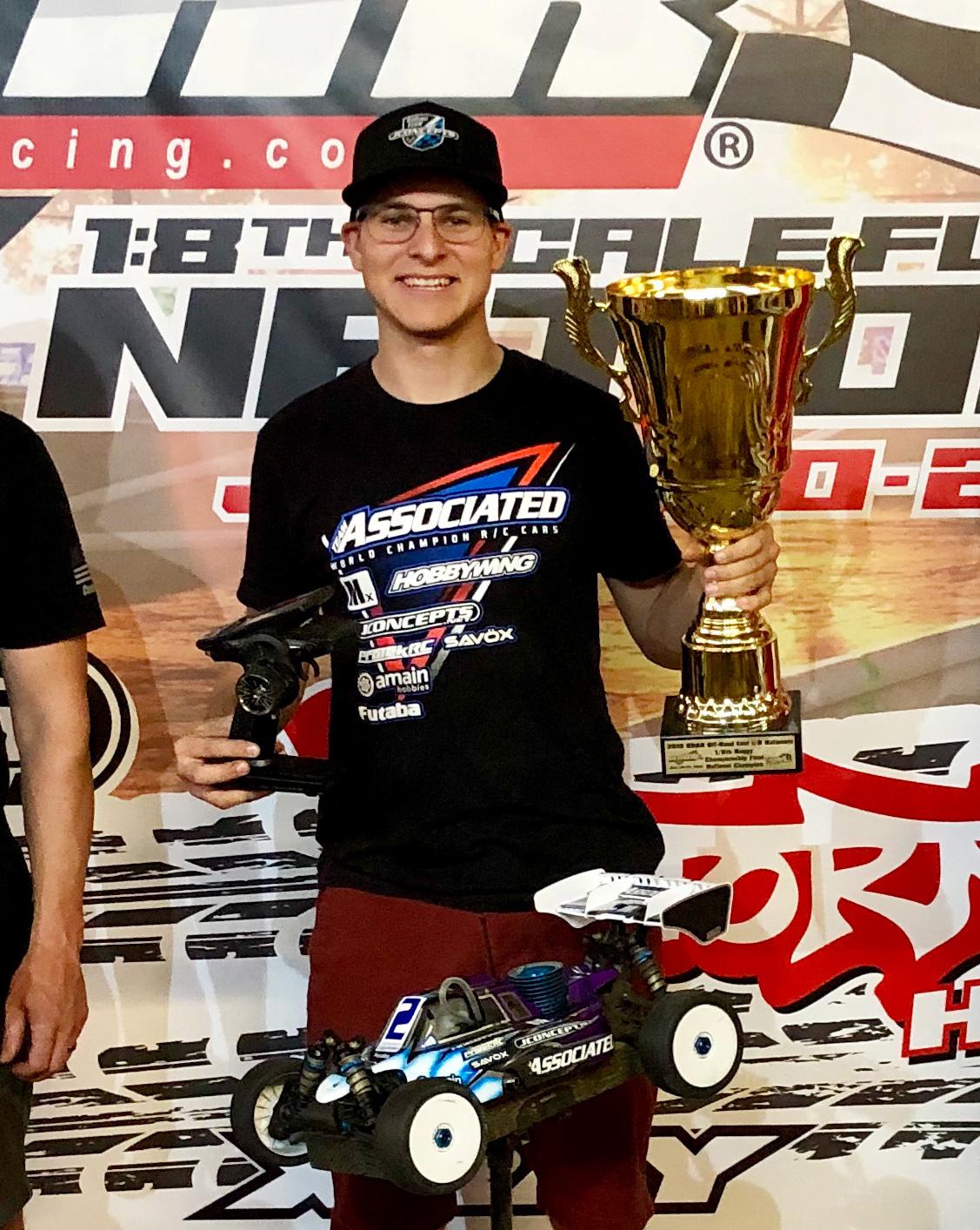 The R.O.A.R. 1:8 Fuel Off-Road Nationals returned for the third time to Thornhill Racing Circuit in Hutto, TX. Boasting a huge covered track with a clay racing surface, the racers were assured of a consistent and fast layout.
Practice started on Wednesday with qualifying on Friday and main events starting Saturday night. Six drivers made it in to the semi-finals for Nitro Buggy: Spencer Rivkin (3rd), Broc Champlin (7th), Alex Kosciuszek (12th), Cole Tollard (15th), Jackson Brunson (16th) and Jonathan Burkhalter (21st), Evan Vail (25th) and Aydin Horne (26th).
In the Nitro Buggy semi-finals, Team Associated's Spencer Rivkin set the fastest time between the two heats to start second after the event's top qualifier, who starts first. Joining Spencer in the 60-minute A-Final were Broc Champlin (6th) and Alex Kosciuszek (9th), who were also driving the RC8B3.1. As the main event started, the pace was fast and furious. A first-lap collision sent Rivkin back in the pack, but with a steady pace Rivkin worked his way up back to the top three positions before his first pit stop. From there he settled in to a pace that no one could match and eventually took over the lead on lap 43, which he would hold until the end of the race at lap 117.
This is Spencer's second R.O.A.R. 1:8 Fuel Off-Road Buggy National title and the fourth National Championship of his career with four straight podium finishes. In the Nitro Truggy class he was less than a second away from victory where he finished a very close second place.
Congratulations to Spencer on his victory, to all the finalists for a very successful weekend, and to the team for all their support. Special thanks to Thornhill Racing Circuit for hosting the event and to all the loyal Team Associated supporters.
Products used
#80935 RC8B3.1 Nitro Team Kit
#81225 Front Springs, V2, blue, 5.5 lb/in, L70, 8.75T, 1.6D
#81230 Rear Springs V2, gray, 4.2 lb/in, L86, 10.75T, 1.6D
#81009 RC8B3.1 Underdrive Differential Gear Set
#81068 FT Aluminum Pillow Balls
#81174 RC8B3 FT Chrome Shock Shafts, 3.5x30.5 mm
#81175 RC8B3 FT Chrome Shock Shafts, 3.5x39.5 mm
#81081 FT Hex Drives, 17 mm, blue
#81382 FT Differential Cross Pins, with inserts
#81274 RC8B3 FT Upper Titanium Screw Set
#5447 FT Silicone Diff Fluid, 15,000 cSt
#5455 FT Silicone Diff Fluid, 10,000 cSt
#5446 FT Silicone Diff Fluid, 6,000 cSt
#81422 RC8B3.1 FT Graphite Rear Shock Tower, tall
#WeAreAE
Team Associated - Champions by Design
---