Team Associated Wins Four R.O.A.R. National Titles
Friday, Sep 6, 2019 at 12:00am CDT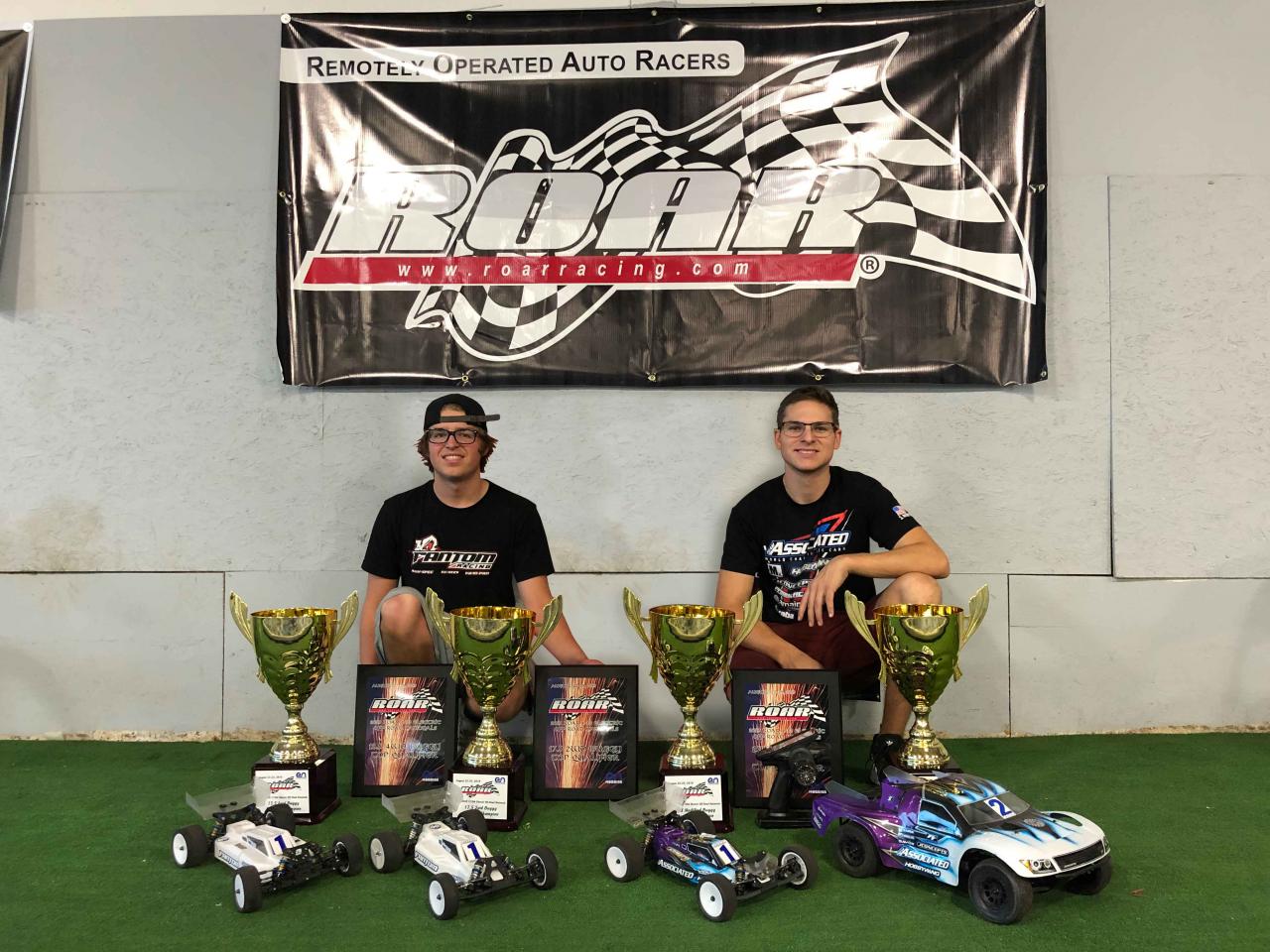 (Pictured: Dreighton Stoub (left) and Spencer Rivkin.)
Each year the best racers from the United States and Canada gather to compete for the R.O.A.R. 1:10 Electric Off-Road National Championships. With four vehicles in two categories of racing (17.5 and Modified), eight titles were up for grabs. This year's event makes its first trip to EN Hobbies in Columbus, OH, which features a dirt clay racing surface that provided high grip conditions and very tight racing.
In the premier class of 2WD Modified Buggy Team Associated's Spencer Rivkin earned the top qualifying position with his B6.1DL and started on pole for the triple A Mains. Capitalizing on this, Spencer went on to drive a flawless A2 and A3 main event to secure the win and retain his title as 2WD R.O.A.R. National Champion. Spencer wasn't done winning, though. He also raced his way to the front of the 2WD Modified Short Course with his SC6.1 to take his first National Championship in that class and Team Associated's tenth consecutive (and undefeated) 2WD Modified Short Course National Championship.
In the highly competitive 2WD 17.5 Buggy class, privateer Dreighton Stoub was the class of the field. Choosing to race the B6.1FL, Dreighton checked out from the field and won a long-overdue National Championship in this class. Much like Spencer, Dreighton wasn't done winning, either. Borrowing a friend's B64, Dreighton also TQ'd and won the 13.5 4WD Buggy category to earn his second title of the event.
With a majority of the field choosing to use Team Associated products, we are proud to be the #1 choice of racers. With team support around the world, you're sure to find a representative at the track to help you dial in your vehicles. Congratulations to the winners, A-Main finishers and to EN Hobbies for hosting an unforgettable R.O.A.R. National Championship.
#WeAreAE
Vehicles used
#70007 RC10SC6.1 Team Kit
#90021L Limited Edition RC10B6.1DL Team Kit
#90022 RC10B6.1 Factory Lite
#90014 RC10B64 Team Kit
Factory Team products used
#1340 FT Aluminum Pinion Gear, 22T 48P, 1/8 shaft
#1366 FT Aluminum Servo Horn 25T, 15.5 mm
#91329 FT 12 mm Front Springs, gray, 3.45 lb/in
#91337 FT 12 mm Rear Springs, white, 2.10 lb/in
#91494 FT 12 mm Machined Shock Spacers, V2
#91576 FT 12x23 mm FOX(R) Shock Bodies with Genuine Kashima Coat, V2, threaded
#91577 FT 12x27.5 mm FOX(R) Shock Bodies with Genuine Kashima Coat, V2, threaded
#91579 FT 12x36 mm FOX(R) Shock Bodies with Genuine Kashima Coat, V2, threaded
#91616 FT 3x21 mm Shock Shafts V2, chrome
#91620 FT 3x27.5 mm Shock Shafts (V2), chrome
#91624 FT 3x35 mm Shock Shafts (V2), chrome
#91626 FT 12 mm Pistons V2, 2x1.6 mm, flat
#91627 FT 12 mm Pistons V2, 2x1.7 mm, flat
#91658 B6 FT Aluminum Bulkhead, 10g
#91668 B6 FT Aluminum Steering Bellcranks
#91683 B6 FT Titanium Front Axles
#91746 B6 FT Aluminum Chassis Weight, 13g
#91748 B6 FT Steel Chassis Weight, 36g
#91755 FT RC10B6 Titanium Screw Kit
Team Associated products used
#91197 LCF Slipper Pads
#91674 B6 Gull Wing Front Arms, hard
#91802 B6.1 Vented Slipper Hub, inner
#91806 B6.1 Vented Slipper Hub, outer
Reedy product used
#27304 Reedy LiPo Battery Weight Set
Associated Electrics - Champions By Design
---