Team Associated at the 2019 USVTA Nationals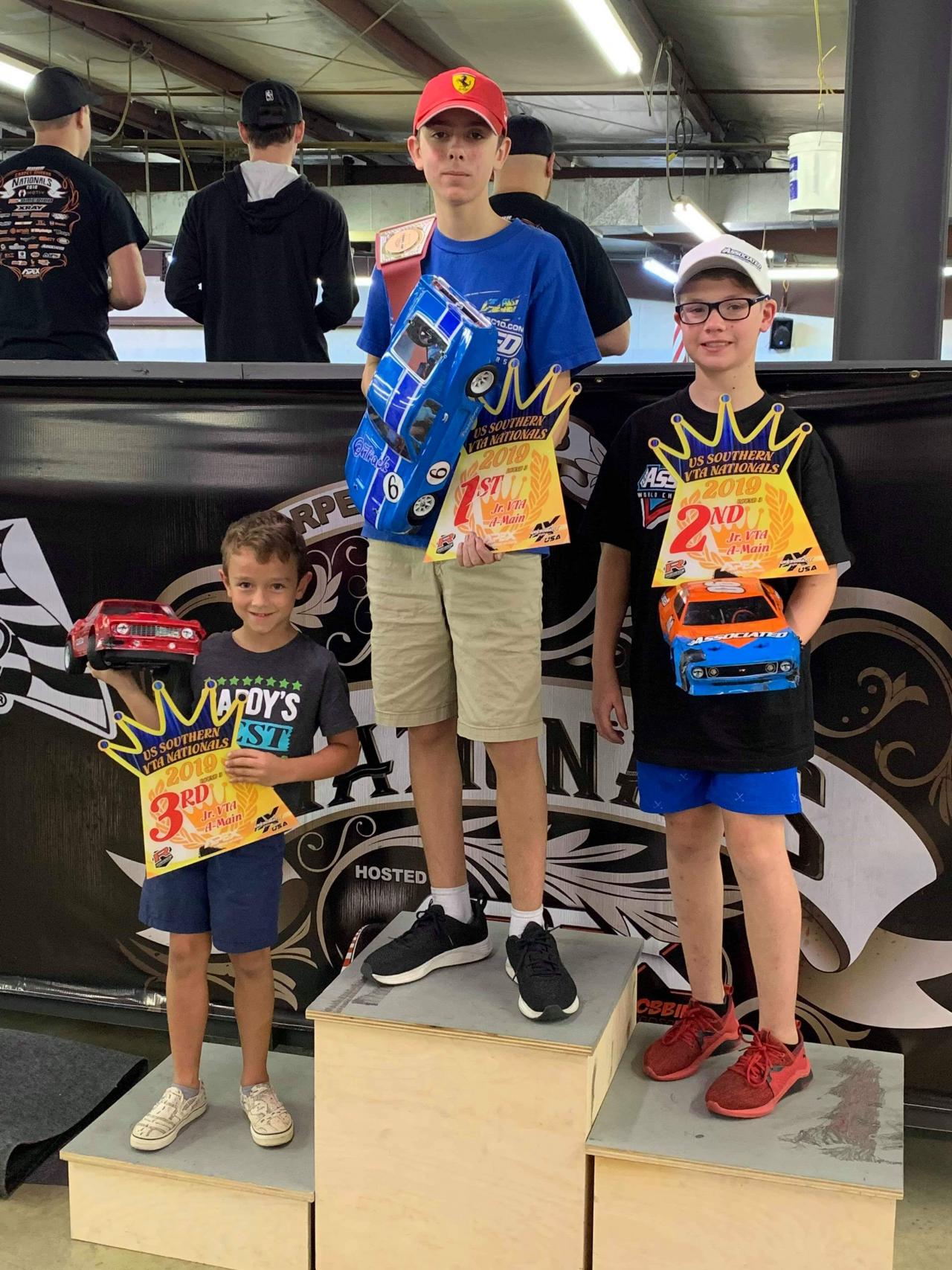 (Pictured: Noah Davis (center), 2019 USVTA Jr National Champion)
The 2019 U.S. VTA Nationals held at Apex Hobbies and Raceway over four days saw almost 200 entries and over 100 racers -- and more excitement than we could have anticipated. Creator and promoter as well as Team Associated/Reedy Power driver Myron BATTMAN Kinnard put on a show of shows for carpet onroad racing. It's the event dubbed "The One Not To Miss" over the last nine years, which included a solid 17-hour practice day to make sure everyone had plenty of time to get tuned in.
Classes ranged from Modified Touring Car to Jr VTA to Euro/Semi Truck. The event attracted multiple racers from over 25 states, including California and New York. Also bringing in National champions like Sam Isaac, Brandon Clements, Matt Lyons, John Barron, and of course, track owner Eric EA Anderson, and many others.
Team Associated and Reedy Power held its own against the other teams, with Logan Pilcher and Noah Davis making the A main in Jr VTA. The F1 class had a very tough A main with four National champions in it! Brian Davis and Corey Roberts both made good runs in 13.5 1:12 scale.
Jeff and Corey both got in the A main in 17.5 TC with company like Eric EA Anderson, Drew Ellis, and Matt Lyons. Short on time, promoter Myron ran his Reedy Power Euro Truck and TQ'd it, with Tim as 2nd qualifier.
As Sunday rolled around we would see the BEST race of the weekend in the Battle for the Belt in Jr VTA between TQ Noah Davis and runner up Logan Pilcher. At the start it was a back-and-forward corner-to-corner battle between two young Associated TC7.2 racers. The race came down to lapped traffic and two corners -- a .0445 difference which crowned Noah Davis as the 2019 USVTA Jr National Champion.
I TQ'd and won in Euro Truck.
All in all, the Team did very well together and had good results. We all helped and worked together -- and it showed.
#WeAreAE
Vehicles used
#30122 TC7.2 Factory Team Kit
Reedy products used
#752 WolfPack LiPo 4000mAh 35C 7.4V
#27006 Reedy Blackbox 600Z Zero-Timing Sensored ESC
#27111 Reedy 1514MG Digital HV Metal Gear Servo, 15kg
#27112 Reedy RS1306 LP Digital HV Brushless Servo
#27317 Wolfpack HV-LiPo 5100mAh 50C 7.6V LP Stick
Photos courtesy of Myron BATTMAN Kinnard. Thanks to Myron BATTMAN Kinnard for this report.
Associated Electrics - Champions By Design
---