Aydin Horne Wins 2WD Open at the 2020 Reedy International Off-Road Race of Champions
Friday, Feb 7, 2020 at 12:00am CST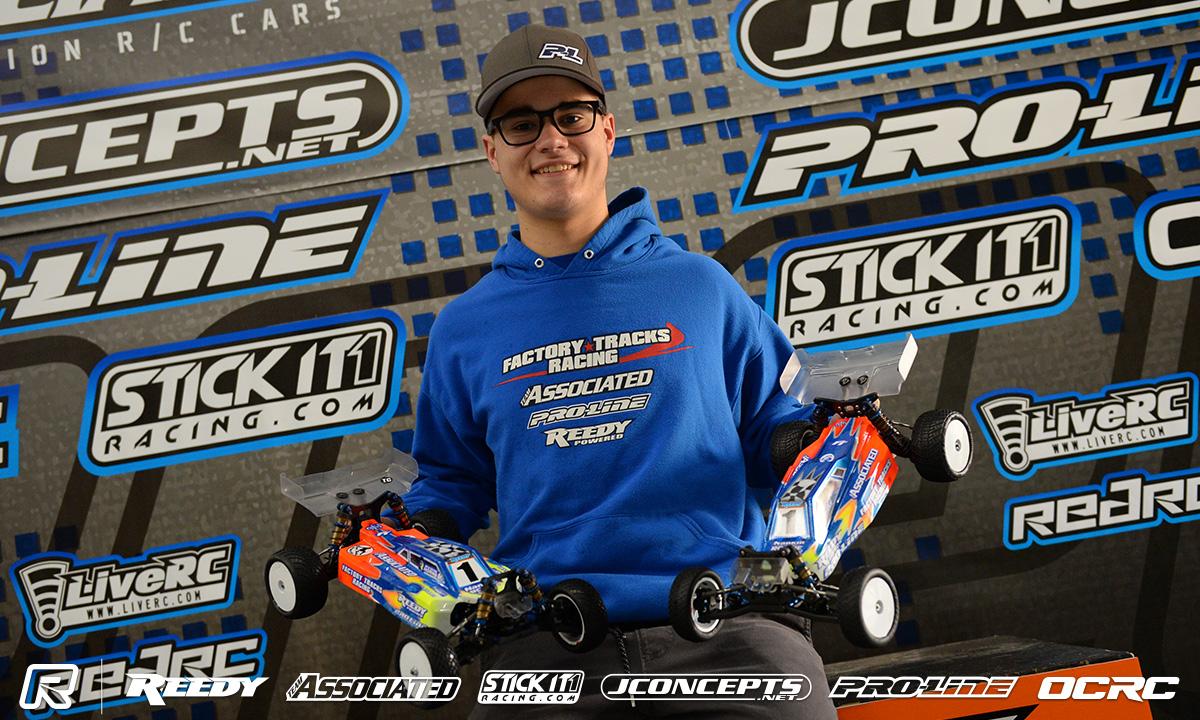 (Pictured: Aydin Horne, 2WD Open winner.)
Every January the top 1:10 off-road racers gather from around the world to compete in the Reedy International Off-Road Race of Champions. With three categories of racing, two of them feature amateur racers competing in the 2WD and 4WD Open classes. The third category is reserved for the top professionals in the Invitational class.
In the 2WD and 4WD Open classes, it was the Factory Tracks Racing / Team Associated / Reedy Power driver Aydin Horne who dominated qualifying and earned the top qualifying position in both classes driving his B6.1DL in 2WD and B74 in 4WD. Joining him in the 2WD Open main event driving Team Associated vehicles were Austin Horne (second place), Kyle Layton (sixth), Alex Vanderbeek (seventh), Mason Neubert (ninth) and Jackson Brunson (tenth).
In the 4WD Open class he was joined by Alex Vanderbeek (second place), Austin Horne (fifth), Kyle Layton (sixth), Jackson Brunson (seventh) and Blake Champlin (tenth). Together the group combined to occupy 60% of the A-Main fields!
In the Open class, all main events are 10 minutes and the A Mains run twice. Each A Main event awards points based upon the finishing position. The two mains are added together and the lowest points wins with the better result in the second main breaking any ties. In the 2WD Open class, Aydin finished second in the first main and first in the second main to take home the overall 2WD Open championship and punch his ticket in to the 2021 Invitational class.
In the Invitational class it was the duo of Spencer Rivkin (second overall) and Broc Champlin (fifth overall) who's combined points of 44 beat the Yokomo duo of Ryan Maifield and Lee Martin by 6 points to take home the Manufacturers Championship for Team Associated.
Special thanks to everyone who made the 26th running of the Reedy International Off-Road Race of Champions one of the top events in the world and especially to the racers who continue to support the event with participation from around the world.
#WeAreAE
Vehicles used
#90021L RC10B6.1DL Team Kit
#90026 RC10B74 Team Kit
Reedy products used
#27200 Reedy 1216-C2 Dual AC/DC Competition Balance Charger
#27113 Reedy RT1709 LP Digital HV Brushless Servo
#27005 Blackbox 510R Sensored Competition ESC w/PROgrammer 2
#27335 Reedy Zappers SG2 4800mAh 110C 7.6V Shorty
#260 Reedy Sonic 540-M3 Motor 7.5 Modified
Photos courtesy of redrc.net.
Associated Electrics - Champions By Design
---