The Jimmy Babcock Racing League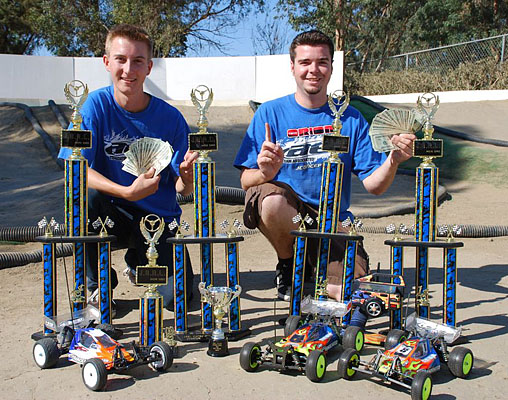 The Jimmy Babcock Racing League has turned into the premier electric off road racing series on the west coast. Racers from all over California travel to a variety of tracks from Hot Rod to Thunder Alley to test their skills over 8eightrounds, five of which count. The JBRL has averaged nearly 200 entries for the last few years and continues to grow stronger. A couple of AE up-and-comers have used the series to develop their talents and support California's resurging electric scene.

2WD Modified was a great battle for most of the series between Greg Hodapp and Associated drivers Frank Root and Steven Harston. After eight rounds, Frank used the strength of three main wins along with three TQ's to secure the overall points title by 7 points over Greg Hodapp, with Steven Hartson in third.

The 4WD Modified class was also very competitive with Hodapp, Root, and Hartson again battling for the Title. Frank took control of the series early on by winning the first four rounds with two TQ's, and the title was secured by the fifth round! Steven would also win two rounds giving the B44 the first and second!

The 19T buggy class was dominated by the newest Team Associated driver, Jeff Nicol. Jeff won four of the eight rounds, and also had four TQs. Not only did he use the FT B4, but the new Reedy Challenger 19T motor and an LRP Sphere Competition 2007 ESC.

Jeff also dominated the 2WD Expert Stock Class TQ'ing two rounds, and winning three times. In the incredibly competitive class, Jeff was the only driver to win more than one time, and he did it three times!

In sportsman stock, it was privateer Alex Alvarez winning five rounds with 3 TQ's to earn his 1st JBRL championship!

Team Associated vehicle dominated with the B4 and B44, winning every possible class!
---