Team Associated Wins Romanian Buggy Nationals
Monday, Oct 12, 2020 at 12:00am CDT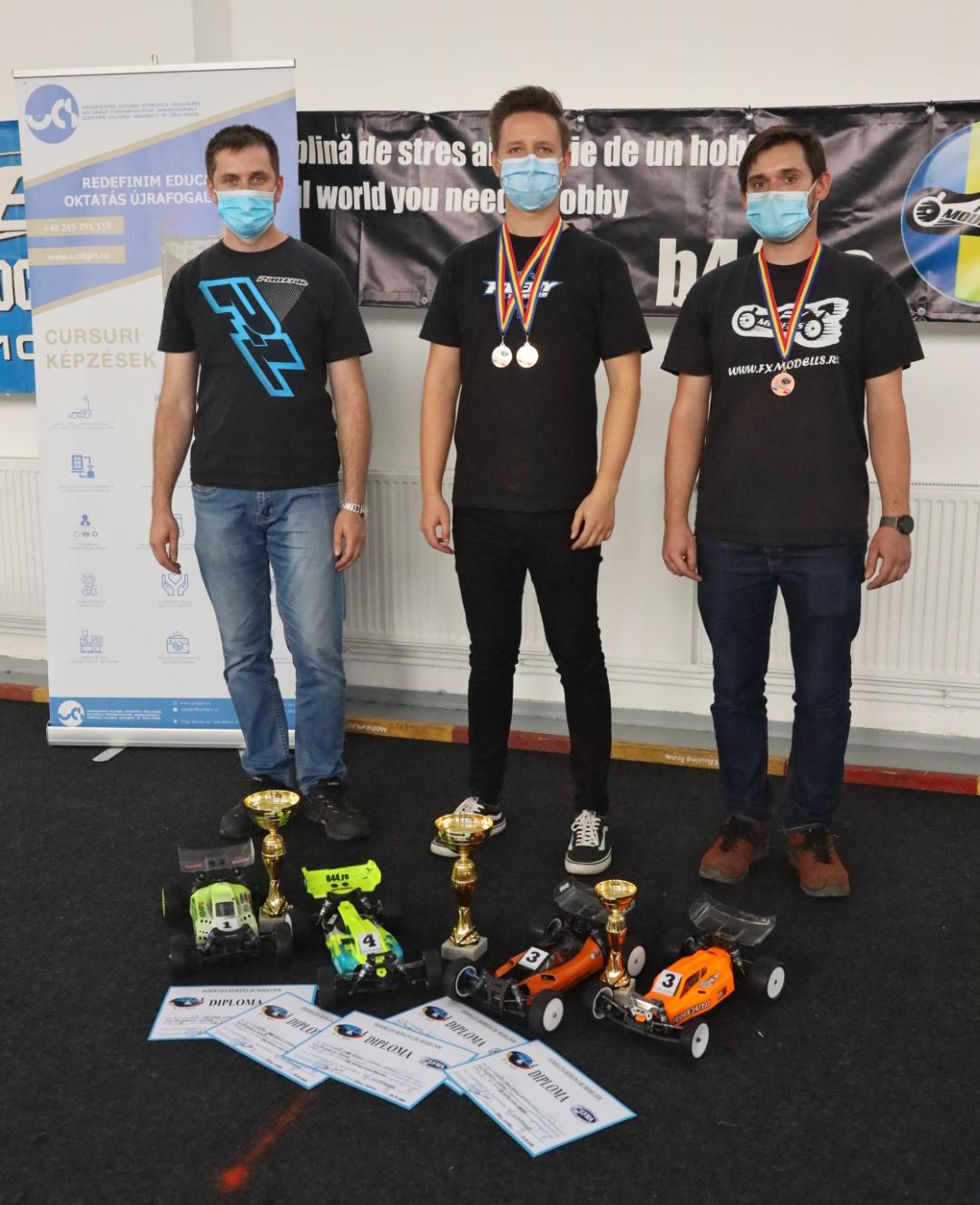 (Pictured: Fridrik, Jako, Crihan.)
After a 6-month delay and two canceled events, we finally held the Romanian Buggy Nationals at the UCS Arena in Transilvania. Due to COVID-19 situation, the organizers UCS Tg-Mures and Fxracingms took special measures to protect the drivers attending this event. Because it was an indoor event, racers had to pass temperature scanners and the mask was a must. No spectators were allowed, but we had a live transmission on Facebook. We had 4 categories: Buggy 2WD Seniors and Juniors, 4WD Seniors and Juniors.
All the racers were very excited after a long waiting period to get back in shape for carpet racing. The battle for the titles were very intense, and for some drivers the mask was a big disadvantage. In the 2WD class the battle was between Jako Zsolt (Associated FFxracingms), Faur Cristian, Crihan Liviu (Associated Fxracingms) and Matei Catalin. The lack of front grip and training took the win for Faur Cristian with Zsolt in second and Liviu third, but the team title win was for the Fxracingms Team.
The situation changed the next day in 4WD when Zsolt was back in shape. Zsolt took the first round, followed by Cristian, then Cristian took the second. In the final round, Zsolt took the overall win for Associated Fxracingms Team. Five of the six cars in the final were Team Associated.
In the Junior class we had another battle between Faur Alexandru, Stroe Razvan (Associated) and Matei Alexandru (Associated). Stroe took the win in the first round followed by Faur and Matei. In the second round we had a Hollywood finish. In the last lap and final corner before the last jump, Stroe had to brake because of a slower racer and Faur touched his car from behind. Both cars jumped and crashed. Stroe's car stopped inches before the AMB and Faur rolled over the AMB line, taking the win for the second round. Motivated by this in the final round, Stroe let no chance to Faur to win.He went strong from the start and finished as a Junior champion should. Matei came third. Four of the A-final cars were Team Associated.
Final results:
2WD Modified
Jako Zsolt + Crihan Liviu 1st overall teams
Jako Zsolt (Associated Fxracingms) 2nd
Crihan Liviu (Associated Fxracingms) 3th

4WD Modified
Jako Zsolt + Fridrik Lucian 1st overall teams
Jako Zsolt (Associated Fxracingms) 1st
Matei Catalin (CSTA Associated) 3th

4WD Modified Juniors
Stroe Razvan (Associated) 1st
Matei Alexandru (Associated) 3th
#WeAreAE
Vehicles used
#90023 RC10B6.2 Team Kit
#90020 RC10B6.1 Team Kit
#90026 RC10B74 Team Kit
#90014 RC10B64 Team Kit
Reedy products used
#27441 Reedy Sonic 540-M4 Motor 7.5
#27403 Reedy S-Plus 13.5 Competition Spec Class Motor
#27324 Reedy Zappers SG 3600mAh 110C 7.6V LP Shorty
#27004 Blackbox 510R Sensored Competition ESC
Photos courtesy of Fridrik Lucian, Scientific Cultural University of Tg-Mures Romania
Thanks to Fridrik Lucian for this report.
Associated Electrics - Champions By Design
---