Team Associated/Reedy Power win ROAR Onroad Regionals classes
Tuesday, Feb 9, 2021 at 12:00am CST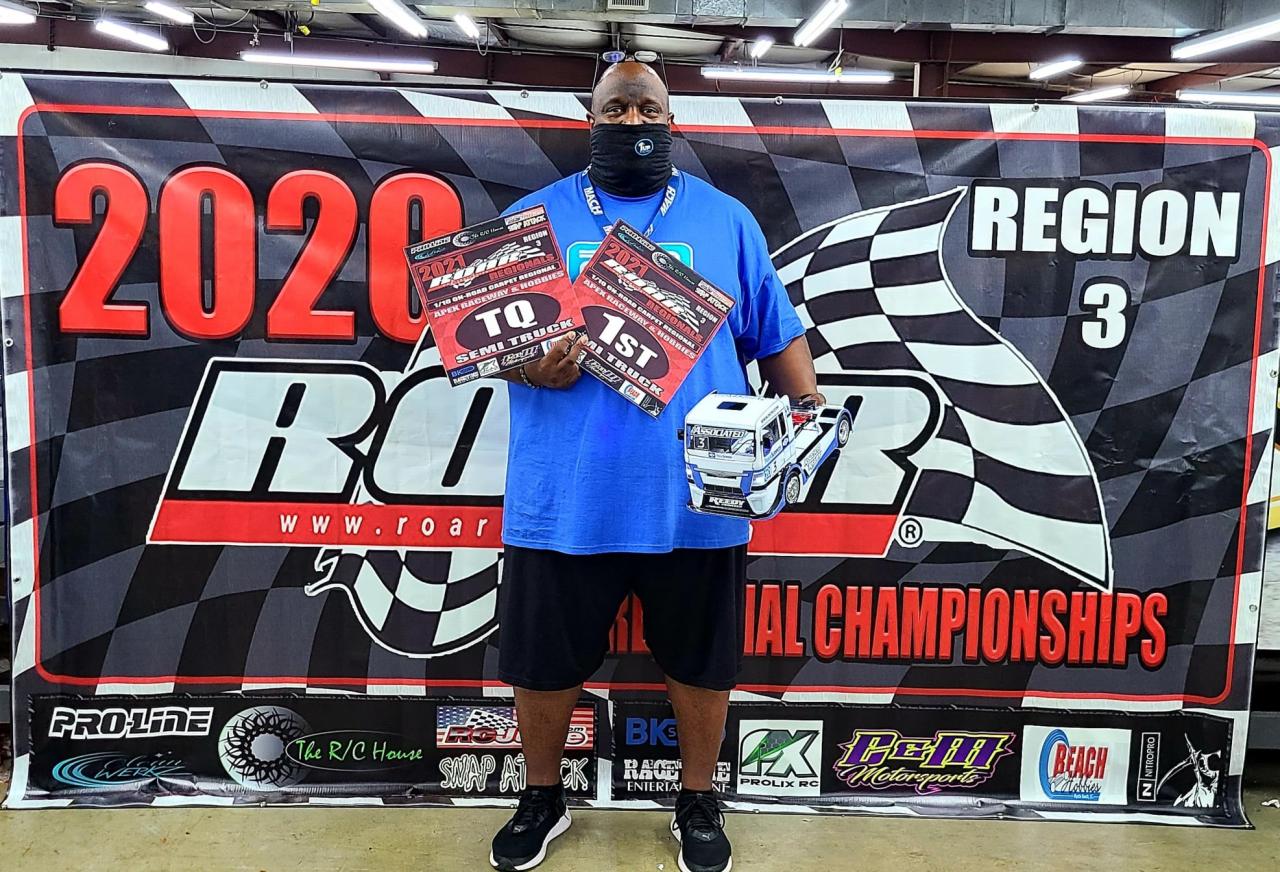 (Pictured: Myron Kinnard TQs and wins Euro Truck.)
The 2021 ROAR Regionals returned to Apex Hobbies and Raceway this year, and Team Associated with Reedy-powered vehicles was there to represent. Myron "Battman" Kinnard, fresh off his 2021 Hudy Championship, was looking to keep the ball going at the event. He was joined by long-time AE privateer Mike Collins. They both entered the very popular and competitive Vintage Trans-Am class, making it one of the largest classes of the event. The class had cars and chassis from every brand.
Friday was setup and practice day, followed by Saturday qualifying. Battman was able to grab two TQ's with his Reedy-powered Euro Truck and TC7.2 by AE. Not to be left out, Mike Collins was able to secure a third spot on the grid in VTA with his TC4. Mike also secured TQ in USGT.
Sunday was triple A mains. A1 saw Battman come out the gate and take the tone-to-tone in both VTA and Euro Truck, powered by Reedy Power products. Mr. Collins finished third in VTA with his trusty Reedy-powered TC4; he also set the highest consistency of the round with a 98%.
Battman secured the Euro Truck title with another tone-to-tone win in A2. Collins rolled on to win VTA with another 98% against some pretty stiff competition in A2.
A3 was the finals of the day with a three-way tie for the title in VTA and extreme bragging rights for at least a year. The Battman leaped out of the gate and was able to pull a 3-second lead on the field. The win looked to be in the bag for the Battman with 45 seconds to go. One too many factors allowed Mike Collins to slide by and take the win and the overall title. Battman finished second.
Battman and Collins also wrapped up USGT with Collins taking TQ and the win and Battman holding down third.
Summary:
Battman set TQ and won Euro Truck.
Battman set TQ in VTA.
Mike won VTA.
Mike set TQ and won USGT.
#WeAreAE
Vehicles used
TC7.2 Factory Team
TC4
Reedy products used
#27009 Blackbox 510R 1S Competition ESC
#27002 BLACKBOX 800Z 2S Zero Timing Competition ESC
#27345 Zappers SG3 6000mAh 115C 7.6V LP Stick
#27346 Zappers SG3 5500mAh 85C 7.6V ULP Stick
#27203 Reedy 1416-C2L Dual AC/DC Competition Balance Charger
Photos courtesy of Myron "Battman" Kinnard.
Thanks to Myron "Battman" Kinnard for this report.
Associated Electrics - Champions By Design
---