24th Annual Arizona States Championships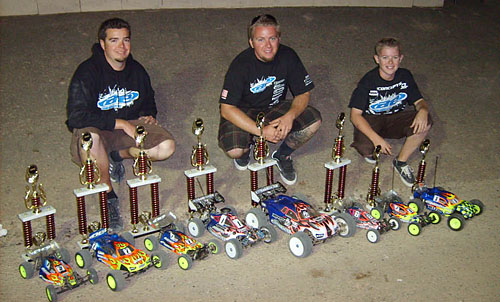 Rich in R/C heritage and under new ownership, Scottsdale R/C Speedway (SRS), home of the Cactus Classic, hosted the 24th Annual Arizona States Championships. Team Associated team drivers Ryan Maifield, Frank Root, and Tanner Denney all made it out for the three-day event.

In 1:8 buggy, Maifield was on a mission. At Maifield's home track and fresh off his pole position start at the IFMAR World Championships, racers from across Arizona came over to congratulate him on his success. As a homage, Ryan left his #1 numbers on his car from the Worlds for all to see. Maifield TQ'd every round of qualifying and went on to win the main convincingly by several laps. Maifield's Reedy-powered RC8 utilized the identical setup from the World Championships and proved to be balanced and smooth around the track.

1:8 Truggy was no different. Maifield kept his 2008 truggy domination going by TQ'ing three of the four rounds, then again winning the main by several laps. He also turned the fastest lap and the fastest five-minute run of the weekend with the RC8T and Reedy engine! He blistered the track every run, setting lap times others could only dream about. Each time his RC8T hit the track everyone would come out to watch his runs, usually with jaws dropped!

1:8 Truggy A Main

Switching to electric, the 2WD Modified Class was again all Ryan Maifield. After Root's TQ in the first round, Maifield took the next three to place his Reedy/LRP-powered Factory Team B4 at the pole position for the single main, Root started second and up-and-coming AE star Tanner Denney third. At the start, Root pushed a bit wide, allowing Denney through for 2nd; however, he was able to get back by Denney to set his sights on Maifield. A hard-charging Root bobbled a few times and allowed Maifield to streatch out his lead and cruise home for the win, giving him three more Arizona State Titles to his credit. Root and Denney raced hard for the remaining podium positions and with a last-minute pass, Root claimed second and Denney third and Associated a 1-2-3 podium sweep!

2WD Modified A Main

The Truck Modified class was all Frank Root and his T4. Frank TQ'd the first three rounds, giving him the overall TQ. A couple of early mistakes at the start of the main from Root would drop him back to 3rd, but he was able to get back in rhythm and chase down the leader. Root then cruised home for the victory to win his first Arizona State title. Tanner Denney continued his successful weekend, again finishing on the podium in 3rd with his FT T4.

The electric 4WD 1:10 buggy class has seen recent boom at the club level. Very popular across the country, 4WD buggy is now being raced in more than just a modified category and this event was no different. In fact, 10.5 4WD was the biggest electric class at the event. Not having a full-fledged modified class, Frank Root entered his Factory Team B44 in to the 10.5 class and dominated from start to finish. Frank TQ'd every round and cruised to the win in the extended, single fifteen-minute main event. Kyle Berstrom, also driving a B44, finished up second.

Scottsdale R/C Speedway's very own James "Bus Driver" Gallatin managed to find the time away from his managerial duties of SRS to race 10.5 truck. In a classic battle against Bill Koch, Gallatin just edged out Koch to take the win, giving the Factory Team T4 the top two steps of the podium.

Congratulations to all the new and re-crowned Arizona State Champions - and with six titles on the weekend, Team Associated is truly Champion By Design.
---