Team Associated Drivers Endure the APEX VTA Enduro
Friday, Jul 23, 2021 at 12:00am CDT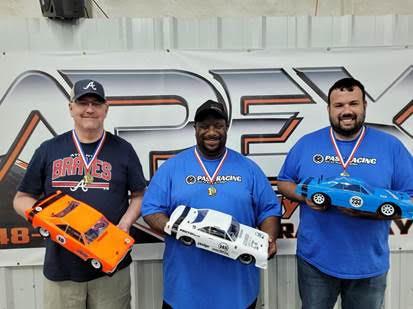 (Pictured, left to right: Tim Haurez, Myron Kinnard, Scott Pilcher.)
Team Associated drivers Myron "Battman" Kinnard, Scott Pilcher, and Tim Haurez were in attendance for the APEX VTA Enduro race on June 26, 2021. Drivers came from several states for this unique 1500-lap grueling endurance race in a 3-driver team format. A challenging layout on fresh black CRC carpet proved to be a nice challenge, with track grip changing over the course of the 1500 laps.
Myron was able to set a fast pace early and allowed fellow Team Associated driver Scott to pull from his information to increase lap times by several tenths of a lap as well in his Team Associated TC7.2.
Scott was able to keep pace in his Reedy-powered Team Associated TC7.2 with mid-motor conversion. The duo that made up 2/3 of the 3-driver team was able to not only keep pace but grow the lead after obtaining as well.
After just over 6 hours of hard-core racing, when all the dust settled, the pair was able to end up in the top spot with their Reedy-powered Team Associated race vehicles. It was a great day of racing with some strong competition from several talented drivers and a mix of manufacturers.
A huge shout-out to track owner Eric Anderson, race director Robert Dirla, and the entire APEX crew for hosting a great event, as always. Looking forward to the VTA carpet battle later this month and the 10th annual VTA Nationals September 16-19, 2021.
#WeAreAE
Vehicles used
#30122 TC7.2 Factory Team
Reedy products used
#27203 Reedy 1416-C2L Dual AC/DC Charger
#27004 Blackbox 510R Sensored Competition ESC
#27101 Reedy RT1508 Digital HV Hi-Torque Competition Servo
#27360 Zappers SG4 6000,Ah 115c 7.6V LP Battery
#27457 Reedy HV 30mm Aluminum Motor Fan
#27400 Reedy S-Plus 25.5T Motor
Photos courtesy of Scott Pilcher
Thanks to Scott Pilcher for this report.
Associated Electrics - Champions By Design
---