Mushroom Cup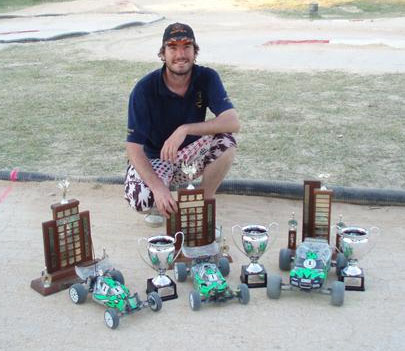 Associated and Josh Pain have TQ'd and won all three Mod titles - 4WD, 2WD, and Stadium Truck - at the West Australian state titles last weekend.

2WD was a great race with Associated taking top two spots. Kyosho Australia sent their top guns to try and take the titles, but it was myself and Fellow ACE teammate Ash Peeler who got the better of them, with Tod Trower, Kyosho in second.

4WD was B44 in the top three spots with Gavin suckling in second and Ash Peeler in 3rd, Gavin winning the first final and myself winning the second to set up a great third final. Gavin was feeling the pressure and was still putting in a great drive, with only a few small bobbles to allow me to take home the win.

In Stadium Truck, we had all ten spots filled by the T4, myself in first, Ash Peeler in second, and Nathan Hodder in third, with some great racing in the finals.

A great event all in all, and great results for the A Team and myself.

Sunday was the first Mushroom Cup, set up by the Radio Rally Club for nitro buggies and truggies. With seventy entrants and some of Australia's fastest nitro drivers, it was turning out to be a great event.

This was the first outing for me and the RC8T, and what a truggy! I was three seconds a lap faster than any other truggy driver. I took TQ easily and ended up winning the forty-minute final by a huge ten laps. Everyone was in awe of the RC8T and I had a few drivers saying, "What a pleasure it was to watch the truggy go around the track."

Considering there was no practice and I did not change the car from kit setup all day long, I was very happy! Thank you, Team Associated, for building such a great vehicle.

Buggy was great. Using the Team's Worlds setup I went on to TQ the event and win the final by three laps. The RC8 was perfect and reassured my choice in running the car for another year.

Here is a link to the Mushroom Cup results and photos:
http://www.buggy-pitstop.com/wordpress/

Special thanks to Josh Pain for sending this report.
---