Cavalieri & Denney Victorious At Southwest Indoor Grand Prix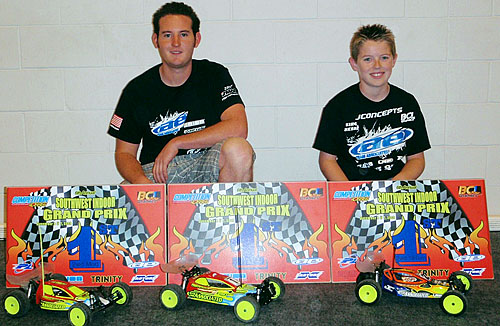 Hosted by Competition Hobbies in Tucson, AZ, the 6th Annual Southwest Indoor Championship gathered racers from across the Southwest for a fun weekend of racing at arguably the best indoor offroad facility in the World. Recently under new management, the track surface has changed from ultra high grip "slick tire" track to a hard-packed, blue-groove style surface. This allowed the racers the ease of just mounting tires and not worrying about sanding them to a fine polished smooth surface.

Qualifying saw Ryan Cavalieri take his Factory Team B4 and B44 to the TQ position in all four rounds of both classes, giving him the clean sweep of qualifying in both the 2WD Modified and 4WD Modified classes. Of the possible twenty positions in the two main events, Team Associated vehicles occupied seventeen positions, making them by far the choice of a majority of the racers.

Picking up where he left off in qualifying, Cavalieri drove away from the field in the 4WD class to win A1 and A2 convincingly and thus sitting out A3 where Associated Team Manager Brent Thielke was able to edge out fellow teammate Frank Root for the victory. In the 2WD class Cavalieri looked to be on the same hard charge; however, a few tangles with lappers allowed Root to close and eventually take the lead and victory of A2. In A3, Cavalieri checked out from the field to claim the overall title, adding to his earlier 4WD title.

In the 2WD 10.5 class, Team Associated driver Tanner Denney, local to Scottsdale R/C Speedway - home of the Cactus Classic - took the lead from TQ Danny Stojakovic and never looked back. Denny has been racing for less than two years and has already shown the pace to run with the leaders in the modified classes. Denney is part of a new crop of fast up-and-coming racers across the nation. Look for friendly rivalries to develop among these drivers as they progress through their careers and into the spotlight over the next few years.

Thanks to the Competition Hobbies staff and crew for another memorable event. With a facility like they have, expect more great racing and events to come in the near future.
---