Team Associated Wins Seven Classes at Cactus Classic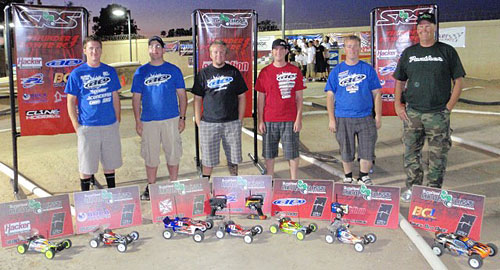 Seen as the biggest electric offroad race of the year, the Cactus Classic has brought international prestige and entrants to the event hosted by Scottsdale R/C Speedway in sunny Scottsdale, Arizona.

Fresh off their victories at the Nitro Challenge a few weeks before, Team Associated drivers Ryan Maifield and Ryan Cavalieri looked to continue their streak of podium finishes just a few miles down the road from the Nitro Pit facility. Looking to join them were Team Associated drivers Neil Cragg, Lee Martin, Frank Root, Steven Hartson, Paul Bradby and Team Manager Brent Thielke.

A quick look at the track brought chills and questions to the minds of the top racers. With a 4-foot drop off, multiple rhythm sections, and a challenging, high-speed step-up, the track had a bit of everything. It was clear that finding the A Main wasn't all about sheer speed, but instead a clean run with minimal mistakes.

In qualifying, Team Associated's Ryan Maifield took his Reedy/LRP-powered Factory Team B4 and T4 to the TQ position of the 2WD and Truck modified classes. Two years ago, Maifield did the same thing and was able to bring home the victory. Only time would tell if he could repeat.

Joining Maifield in the top three qualifying positions was teammate Ryan Cavalieri. Cavalieri struggled to find consistency in the early rounds of practice; however, like the champion he is, he found the speed when it counted. Just missing out on the TQ for 4WD, Cavalieri felt confident in his vehicles going into the main events.

With the top three positions the same for qualifying for the three modified "A" main events, everyone knew it would be difficult for someone else to break into the podium positions. All three of the first A Mains played out as qualified with the TQ taking the victory, so heading into A2 the championships could quickly be decided. But as usual, nothing is easy when you're competing for a Cactus Classic championship. With different victors in each of the A2 events the championship would come down do the third and final "A ain.

With focus and determination, Maifield took full advantage of his TQ positions and held off Cavalieri and Tebo to take the overall championship in 2WD and Truck Modified. In 4WD, Cavalieri and Tebo had a classic battle with multiple lead changes. On the last lap Cavalieri bobbled while in the lead only to see Tebo bobble worse just a few feet later. Cavalieri re-inherited the lead and took the overall championship in 4WD.

With victories in all three modified classes the weekend was a success for Team Associated; however, the team wasn't done. Championships were also collected in other multiple classes, again proving Team Associated is Champions by Design.
---