Paul Bradby and Reedy Power "Lay It Down" at Robin Hood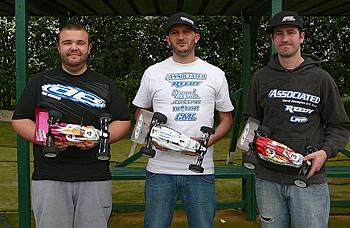 Long-standing Team Reedy/Associated driver Sir Paul Bradby picks the pockets of the locals and delivers an outstanding performance to take TQ and all three finals at the second round of the BRCA 2WD Nationals.
It was a "long, long, time ago" when Sir Paul last won a nationals-way back in the 60s. With a brand-new car and Reedy power backing him up, he decided to "let it eat." He admits that "power is nothing without control" and his Reedy batteries always make him a little wild.
The Reedy 60C 5200mAh 7.4V SP LiPo is powerful and EFRA, IFMAR and ROAR approved. He also likes to use them in his other toys. More power and more run-time mean more fun. He can depend on the figures and knows they do what they say on the label. NO BULL!
Team mates Craggy and Yardy fended off attacks from the rear to back up Sir Bradby to finish 2nd and 4th respectively. All three chose the same Reedy LiPo to fuel their Team Associated B4.1s equipped with the all-new CML C4.1 mid-motor conversion. The drivers received their new cars the day before the race and with no testing and limited practice they dominated. Pretty cool!
Products used:
#627 Reedy 60C 5200mAh 7.4V SP LiPo Battery
---