JR Mitch Wins Pro 2 Modified at the Southeast Short Course Nats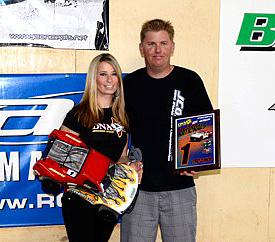 Racers from across Florida converged upon Bashers R/C in Palm Beach Gardens, Florida, for the inaugural Southeast Short Course Nats. The packed house of racers and spectators created an exciting and memorable atmosphere which encouraged everyone the step it up and put forth their best effort.
In the Pro 2 Modified class, JR Mitch grabbed the coveted pole position with a 28-lap performance. A hard-fought win by JR in A-1 gave him the early advantage. However, in A-2 heavy traffic hampered JR's progress after a poor start. A second-place finish is all that he could muster, but he still maintained the advantage heading into A-3.
Without hesitation, JR jumped into the lead in A-3 and never looked back. Driving an SC10 Factory Team powered by Reedy LiPo batteries, JR turned some of the fastest laps of the weekend on the way to the win and the overall victory.
JR also competed in the Pro 4 Modified Class and narrowly missed out on the victory with his Reedy LiPo-powered SC10 4x4. A win in A-2 kept him in contention for the trophy girl but a second place finish in A-3 meant that he would have to settle for a respectable second place overall.
Products used: Pro 2 Modified
#628 Reedy 60C 5500mAh 7.4V LiPo
#7034 AE SC10 Factory Team Kit
#LRP50652 LRP Vector X-12 8.5
#LRP80905 LRP SXX Competition v.2 ESC
Products used: Pro 4 Modified
#628 Reedy 60C 5500mAh 7.4V LiPo
#90004 AE SC10 4x4 Kit
#LRP50950 LRP Vector X-12L 550 4.5
#LRP80955 LRP SXX TC-Spec v.2 ESC
---