Hébert and Cuffs Sweep ROAR Region 2 Championships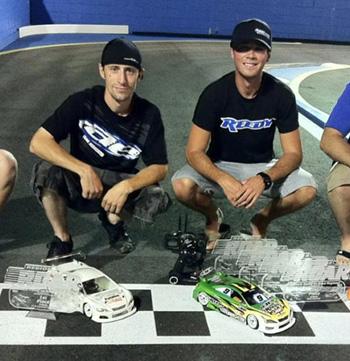 Keven Hébert filed the following race report:
Jackson R/C in Jackson, NJ held the 2011 ROAR Region 2 On-Road Championships on June 18. The same venue will host the ROAR Nationals later this summer, so this event was the perfect opportunity to test in full race conditions. The weather cooperated, which kept the track in great shape throughout qualifying and the main events.
With little time to learn the track, I used both of my cars to get as much track time as possible. Even though I only ran each car twice before qualifying, they both handled very well and would only get better as the track improved. The curbs were very nice and easy to ride, which was very promising for good racing. With three rounds of rocket-round qualifying scheduled, it was important to determine how much the track would change throughout the day.
After three rounds of qualifying in the 13.5 class, I was TQ over fast local racer Mike Haynes with the only 25-lap run in the class. We ended up racing the mains later at night when it was dark, and to my surprise, the track was no faster than during the heat of the day.
In the 13.5 main, a clean start put me out in front of Haynes and the two of us built a gap on the field. We remained close to one another for the first half of the race but in the final three minutes I was able to increase my lead and cross the finish line first.
Modified class qualifying went exactly the same as it did in 13.5. I would start on the pole with Haynes second on the grid. The race was a two-car battle with the two of us gapping the field and fighting it out amongst ourselves. However, by the end of the race I was able to extend my lead to over four seconds to take the win.
Jeff Cuffs was fast all weekend in the 17.5 class. From second on the grid, Cuffs fought his way to the front and won in convincing fashion to complete the TC6/Reedy sweep.

Product used:
Keven Hébert
ASC628 Reedy 60C 5500mAh 7.4V LiPo
ASC942 Reedy Sonic 13.5
ASC950 Reedy Sonic 4.5
ASC30106 TC6 Factory Team
LRP80955 LRP SXX TC-Spec Ver. 2 ESC
Setup: http://bit.ly/Hebert-TC6-setup
Jeff Cuffs
ASC628 Reedy 60C 5500mAh 7.4V LiPo
ASC942 Reedy Sonic 13.5
ASC30106 TC6 Factory Team
---