Team Associated's Cavalieri & Fiege Victorious At Offroad Shootout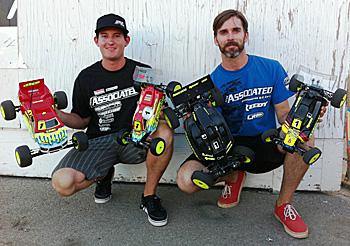 Located just a few miles from Six Flags Magic Mountain, Hot Rod Hobbies hosted the 14th Annual Offroad Shootout. Many racers from around the country have this event marked on their calendars as a staple of their rotation.
Setting the pace in 4WD Modified was Associated's 2x World Champion Ryan Cavalieri. With many of the top competitors in the World gearing up for the IFMAR World Championships in one short week, Cavalieri TQd three of the four rounds and dominated two of the three triple A Mains with his B44.1. A similar storyline played out in the Truck Modified class where Cavalieri took his T4.1 to four TQ positions and secured the title in the first two A Mains.
Fellow Team Associated racer, Brent Fiege, displayed similar results in the 1:8 Expert and 17.5 4WD classes with his RC8Be and B44.1. Starting from the pole position in both classes, Fiege used his Reedy/LRP-powered vehicles to pull away from the field with consistency and a steady pace securing two championships by winning the first two A-Main events in both classes.
With the biggest race of the year starting July 15, "The Shootout" allowed those competing in the IFMAR World Championships one last opportunity to dial in their setups and cars. Look for coverage from Vaasa on LiveRC.com beginning this week as racers and teams begin to travel and arrive in Finland in hopes of claiming the 2WD & 4WD World Championship title.
---