Rick Hohwart and Jeff Cuffs Win ROAR On-Road National Titles
Friday, Aug 5, 2011 at 12:00am CDT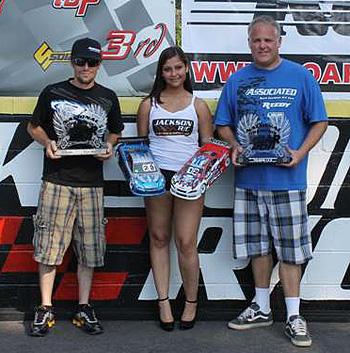 Driving Team Associated's TC6, factory team drivers Rick Hohwart and Jeff Cuffs were victorious in the 13.5 and 17.5 TC classes at the 2011 ROAR On-Road Nationals at Jackson R/C Raceway in Jackson, NJ.
Rick Hohwart dominated the 13.5 class by qualifying first in each of the four qualifying rounds to claim the pole position. Keeping the streak intact, Rick went on to win legs one and two to wrap up his 10th national championship!
Jeff Cuffs made things a little more interesting. Starting second on the grid, Jeff fought hard to finish in the runner-up position in leg one even after receiving a controversial stop-go penalty. Putting the events of leg one behind him, Jeff came back to win legs two and three to seal the deal and the national championship.
Spec motor classes such as 13.5 and 17.5 equalize power which in turn places a premium on handling. Faster corner speeds means the car does not have to slow as much entering the corners. Motors can be configured to take advantage of this, resulting in higher top speeds and faster lap times.
The TC6 is a world-class race car with an economical price and excellent parts availability, making it a great choice for racers of all budgets and skill levels.
Products used:
ASC30106 TC6 Factory Team Kit

Rick's 13.5 Setup Sheet
Jeff's 17.5 Setup Sheet
---