Reedy Off-Road Race Results Roundup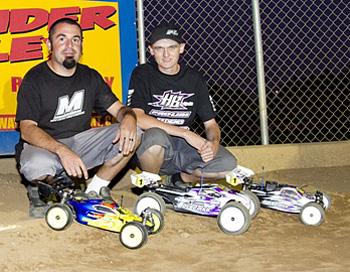 At the 2011 Thunder Alley Gas Championships, Reedy factory drivers Travis Amezcua and Ty Tessmann proved Reedy battery power and reliability is an advantage in both electric and nitro 1:8 classes.
Amezcua took full advantage of his #626 Reedy 5500mAh LiPo battery to claim the win with plenty of run time to spare. Run time and power are important but reliability is equally important in 1:8 buggies that are subjected to the severe punishment that modern tracks dish out.
In the Nitro Buggy and Truggy classes, Ty Tessmann chose Reedy's #612 1600 Series NiMH battery to power his radio equipment. Ultra-reliable and safe to use with most servos, these NiMH batteries continue to be an economical and perfectly suitable choice for the casual or serious nitro racer.
Ryan Maifield continued Reedy's winning ways a couple of weeks later with a victory in the 4WD Short Course class at the 2011 Reedy Truck Race of Champions with the #627 Reedy LiPo 5200mAh LiPo battery. After qualifying second, Ryan stepped up his game and came out on top after the triple A-Main finishes were tabulated.
Congratulations, drivers!
Product used:
ASC612 Reedy 1600 Series NiMH 6.0V Hump
ASC626 Reedy LiPo 5500mAh 60C 14.8V
ASC627 Reedy LiPo 5200mAh 60C 7.4V SP

---