Dirtinator Lays Down the Law at the Southwest Indoor Grand Prix
Tuesday, Oct 25, 2011 at 12:00am CDT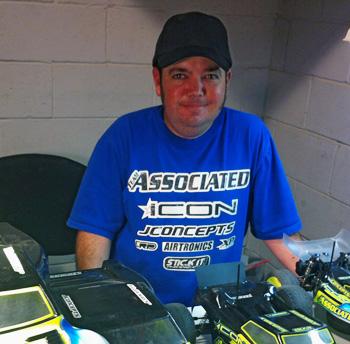 The 9th annual Southwest Indoor Grand Prix, hosted by Tucson, AZ's Competition Hobbies, should be re-named as the BK Invitational. Team Associated's Brian Kinwald owns this track and went on a tear, TQ'ing 14 of the 16 rounds of qualifying among 2WD Modified, Modified Truck, Pro2 and Pro4.
Starting from pole position in everything but Pro4, Kinwald showed the fluid, effortless driving style that helped him win two World Championships in the 90's. Now, almost twenty years later, he's still winning.
With his JConcepts-equipped Team Associated B4.1, Kinwald won the highly contested A1 and A2 to secure the win in the most competitive class ahead of Team Manager Brent Thielke. Never really challenged in Modified Truck or Pro2, Kinwald brought home two more wins, setting the stage for a 4-for-4 weekend.
Starting from second on the grid, Kinwald quickly got by TQ Billy Fischer in Pro4 and laid down the fastest laps of the weekend with his SC10 4x4. A steady and smart drive from The Dirtinator lead him to the victory in the Pro4 class and to completing the event sweep.
Also taking victories for Team Associated, Reedy, LRP, and JConcepts were Richard Lake in the 2WD 13.5 Boosted class and Matt Trimmings in the 2WD 17.5 Non-Boosted class.
A special thanks goes out to the Competition Hobbies crew and locals for a great event, and Ringleader Racing for the smooth event. With over 150 entries, the race was well attended and definitely a "must do" for 2012.
Brent Thielke's setup for his 2nd place B4.1 can be found here: http://www.teamassociated.com/pdf/cars_and_trucks/RC10B4.1/setup_sheets/B4_2011_Thielke_SIGP.pdf
---