Olly Jefferies Wins BRCA 1/12 Nationals Round #1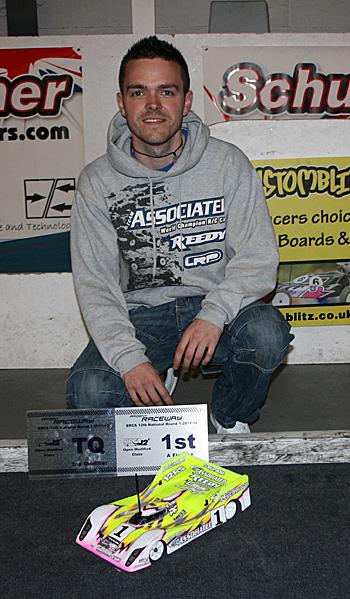 Round #1 of the 1/12 BRCA Championship featured a great result by Team Associated/Reedy/LRP factory driver Olly Jefferies. Host track Ardent Raceway, a favorite among the racers, was the perfect venue to begin an exciting new season.
Olly quickly seized control of the round by putting his Team Associated 12R5.1 on the pole position for Saturday's 10.5 Stock class qualifying.
Building a small gap from his pole position start, Olly came across a crashed car which he could not avoid. The incident dropped him to the back of the field but a never-give-up attitude allowed Olly to claw his way through the field and eventually cross the finish line in third position. Although disappointing, it was a great result considering the journey taken to get there.
Sunday's Modified qualifying went exactly as it had on Saturday, with Olly sitting comfortably on the pole position for the Final. Nothing would stand in his way this time. Olly led the Final wire-to-wire to take an impressive victory and the points lead heading into round #2.
Products used:
ASC600 Reedy 65C 6500mAh 3.7V LiPo Battery
ASC4019 12R5.1 Factory Team Kit
ASC4690 12R5.1 LiPo Conversion Kit
LRP50692 LRP Vector X-12 4.5 Motor
LRP50832 LRP Vector X-12 Stock Spec 10.5 Motor
LRP80905 LRP SXX Competition V.2 ESC

Olly's 12R5.1 Setup Sheet

---