Tanner Denney Wins 2WD Modified at Round 2 of the 2011 KBRL Electric Series
Monday, Nov 7, 2011 at 12:00am CST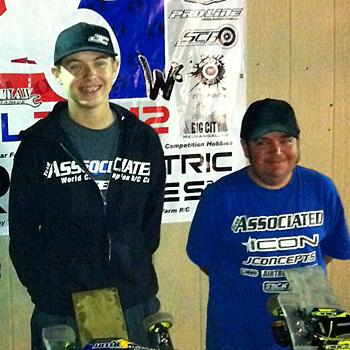 Round 2 of the KBRL Series kicked off at the Fear Farm located in Phoenix, Arizona. A record 200 entries showed up to compete in the fast-growing series. The traction level provided was extremely hooked up with a watered surface making it relatively loose when it was dry. Tire choice as well as driver changes were necessary to compete all day long at the Fear Farm.
During the opening moments of the main event, mistakes by the leaders sent cars in all directions. Tanner Denney emerged with the lead and stretched it with his Reedy/LRP-equipped B4.1 to a 10-second margin. Associated teammate Brian Kinwald remained in the second position and looked to hunt down Denney. During the closing laps, Tanner got caught up in traffic, allowing the margin between him and Kinwald to be cut in half. Tanner would not be denied and finished off the remaining laps in style, cruising to a sizable victory on the popular series. Brian Kinwald finished second and Chris Wheeler third.
Tanner Denney and Brian Kinwald both equipped their B4.1s with the new +8mm chassis and LRP SXX V2 speed controls. Tanner also used the Reedy Sonic 7.5-turn motor and Reedy #628 battery to bring home the victory.
Special thanks to Tanner Denney for this report.
---