Tozser Takes Two in Canada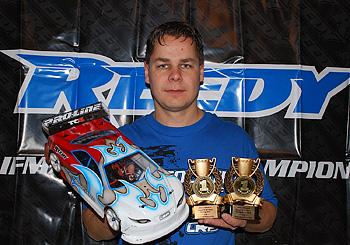 The third round of the Western Canadian Indoor Championship Series (WCICS) was hosted by the KARZ club in Calgary, Alberta. The WCICS is one of the largest RC racing series in North America, this year expanding to seven events across Western Canada.
With the top touring car drivers from Western Canada in attendance, the competition was stiff in both TC classes.
In the Touring Stock class, Korgae Scales and Associated-Reedy-LRP driver Peter Tozser battled nose-to-tail for the opening laps of the race. Peter made a pass at the 2-minute mark and drove to victory, with Korgae and Wayne Mah finishing second and third respectively.
In the Touring Super Stock A Main (13.5 boosted class), Peter built up a solid lead from pole position and took the wire-to-wire win with his TC6. Rick Leung drove to a solid second with his TC6, with Dwayne Flodell rouding out the podium in third.

Equipment used:
TC6, LRP x12 17.5/13.5, LRP SXX Stock Spec V2, Reedy 5500 60C
Thanks to Peter Tozser for this report.
---