Team Associated wins 5 classes at New Year Nitro Brawl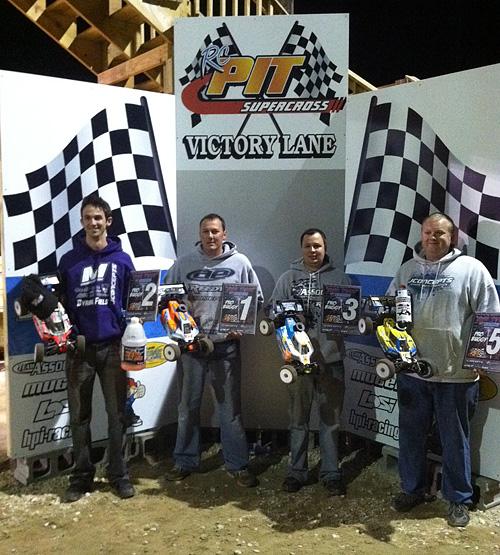 On New Year's Day, it's rare to get 70-degree days in the Carolinas, so pairing this sunny weather with an awesome new facility in Lugoff, SC made for a killer start to 2012. The RC Pit hosted their first annual New Years race to the tune of 183 entries, with drivers attending from VA, NC, SC, and GA. The amount of effort put into this track during its first 4 months has been incredible; look for more great things coming out of Lugoff in the coming years.

Team Associated was on site to make their presence felt. There were seven classes of competition, with AE winning five of seven. The Pro2 SCT class was won by John McGinty with his SC10. The Sportsman Buggy class was TQ'd and won by Patrick Allen, a privateer driver driving the RC8.2 as his weapon of choice. This shows that even in the hands of the private sportsman racer that the RC8.2 is a winning and reliable platform.

Team Drivers Brandon Melton, Chris Pace, and Max Flurer were on site to help racers and try to lock in the Pro4 and 1/8 Buggy classes. In Pro 4, Melton TQ'd each round of qualifying, but Flurer was able to find the speed he needed and put in a great drive and stay out front for the win. Flurer and Melton rubbed paint early with some nice crowd-pleasing passes on each other, but a few mistakes by Melton trying to fly a few non-SCT jumps let Flurer stretch a lead and he never look back. Melton would settle for second to complete a 1-2 finish for the SC4x4, both drivers using Reedy Sonic 4.5 motors and Reedy 5500mAh 60C batteries. Going 10 minutes was not a problem for either driver with this combo.

In E-Buggy, Chris Pace and Flurer would set sights on each other. Flurer grabbed the overall TQ in first round, with Pace qualifying third. At the tone, Pace grabbed the second spot before the first turn, using an awesome launch and inside position. This let the two drivers race each other early and stretch a lead. Pace made a couple of mistakes and let Tim Smith start to close up, but Pace re-grouped and turned in some great laps to hold on and complete another AE 1-2 finish.

In Expert Buggy, Pace and Melton were both happy with their cars going into qualifying. Pace took the TQ in round 1 and was on another great run in round two until a traffic incident postponed the run. In the next heat, Melton and Dupree had a great race, with Dupree edging out Melton for the TQ. Melton knew his chassis was where it needed to be but made the wrong tire choice and knew what to do for the main. Melton grid second followed by Pace in third. During the main, Melton and Barry Pettit whad a great battle, with Pettit trailing by a couple of seconds and maintaining time. However, as the race stretched on, Melton pulled away and raced uncontended for the win. Pace was able to catch up to Pettit and the two raced hard for the last fuel run, but Pettit went on to take second and Pace third, giving AE another class with two cars on the podium. Each driver used the power and reliability of the Reedy VR engine and Reedy #638 LiFe battery. Tim Smith also used the Reedy VR engine to take the fifth spot.

Thanks to The Pit for a great event. The team is looking forward to more races here in 2012 and the second annual in 2013.
Brandon Melton - RC8.2 - New Year Nitro Brawl
---