The Team Takes Three at Rumble in the Rockies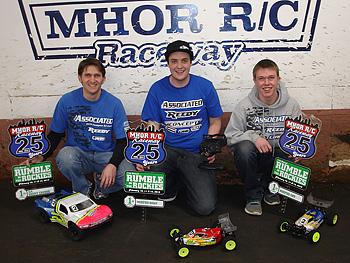 This past weekend MHOR R/C Raceway in Denver, CO, hosted the Rumble in the Rockies. There were nearly 200 entries with drivers from many parts of the country, which made for some great racing. The layout for the event was very high speed, and combined with a small track size, the lap times dropped into the 11-12 second range.
Modified 2WD Buggy
Kody Numedahl and Michael Schoettler qualified second and third overall respectively. Kody took A-1 and Michael took A-2, which meant that A-3 would determine the winner. Kody bobbled on the first lap but made his way back up to second only 1.2 seconds behind the leader. A three-way tie went in Kody's favor by .2 seconds, giving him the overall win.
Modified 4WD Buggy
Again, Kody took the TQ of this class, followed by some of Tacoma WA's best in Michael Schoettler and Luke Smith. Kody saw some mechanical issues in A-1, which dropped him out of the race, leaving Michael to cruise on to an early win. In A-2, an early bobble from Michael let Kody return the favor and take the easy win. A-3 would decide the overall winner and proved to be a close race. Kody made a mistake early, letting Michael get around. He followed him closely but another mistake while pressuring for a pass let Michael take the overall win.
Modified 4WD SC
Adrian Redding took the TQ, followed by teammate Scott Brown. A-1 went just like qualifying -- Adrian took the win followed very closely by Scott. In A-2 both drivers had small bobbles, causing them to finish second and third. A-3 was a battle from start to finish. They swapped positions many times but a last corner pass by Scott gave him the win in A-3 and the overall win by 1.2 seconds.
Overall it was a great weekend for Team Associated, taking home three out of the four modified classes.
Thanks to Kody Numedahl for this report.
---