Pace and Flurer Win at the Spring Sting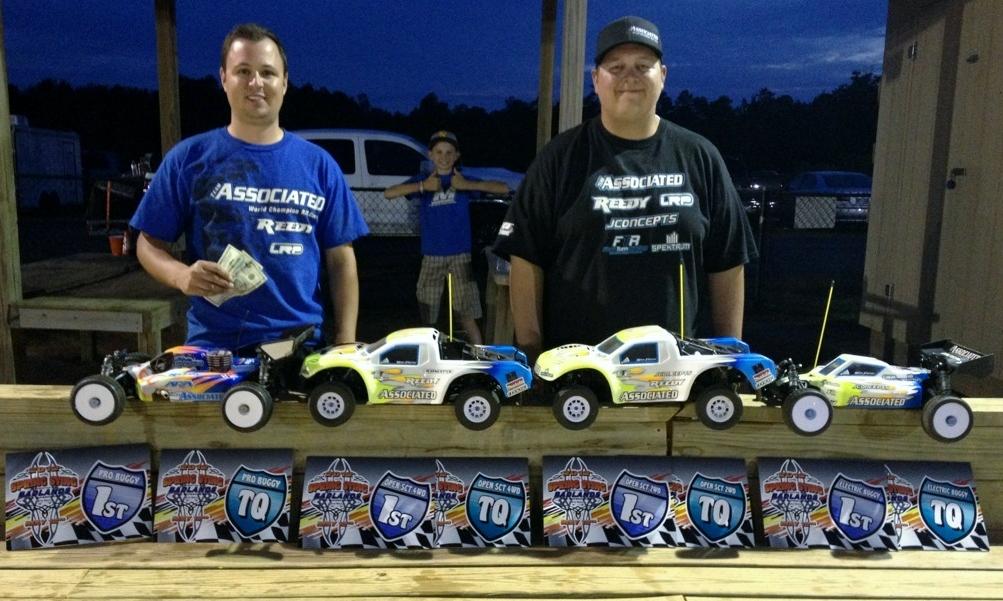 Team Associated drivers Chris Pace and Max Flurer headed down to Myrtle Beach, SC for the 6th annual Spring Sting. The Badlands track crew did an awesome job with a fresh layout for the event.
Pace was representing the highly contested 1:8 Pro Gas Buggy class with his Factory Team RC8.2, Flurer running 2WD SCT with his Factory Team SC10, 4WD SCT with his Factory Team SC10 4x4, and 1:8 E Buggy with his Factory Team RC8.2e. After Friday practice the track took on a high bite blue groove; Pace and Flurer felt good going into qualifying Saturday morning. After 3 rounds of qualifying and taking the best 2 of 3 rounds, Pace and Flurer had TQ'd all classes they entered. Team Associated driver Tim Smith qualified a solid 2nd behind Pace in 1:8 Pro Gas Buggy with local track superstar Jason Smith in 3rd.
All electric classes were run first. Max took full advantage of being the top qualifier in all classes and wrapped up all three wins. Later in the day, 1:8 Pro Gas Buggy took the track. As Pace lead the field with team mate Tim Smith in 2nd, Tim Smith had a few issues in the early laps, allowing Jason Smith into 2nd. With 8 minites to go in the 30-minute final, Pace had a few rough laps in traffic. This allowed Smith a good lead; however, Pace put his head down and closed the gap to a few seconds. With a few turns left, Pace landed the double on the inside of Smith and took the win.
Thanks again to the Badlands Crew for and awesome weekend and to all the racers for making it a memorable event.
---