Reedy 121VR-ST .21 Off-Road Comp. Nitro Engine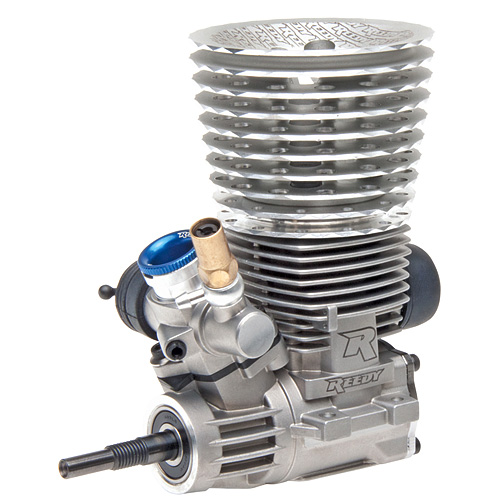 | | |
| --- | --- |
| Part # | 801 |
| Pkg Qty | 1 |
| UPC | 784695008014 |
| MSRP | $599.99 |
| Sale | $259.99 |
| Availability | Discontinued |
Features:
3+1 Port Chrome Plated Cylinder High Silicon CNC-Machined Lightweight Piston Knife-Edged 7075 Aluminum Connecting Rod ADLC-Coated Wrist Pin Chrome-Plated Back Plate with Turbo Scoop Ultra-Lightweight Machined Aluminum Heatsink Head Thermo-Insulated, Screw-Mounted 2-Needle Carburetor Balanced Turbo Scoop Crankshaft with ADLC Coating and Insert Precision Steel Front Ball Bearing Precision Ceramic Rear Ball Bearing Oversized Finned Turbo Head Button 7.0mm, 8.0mm, and 9.0mm Venturi Inserts Designed for 1:8 Off-Road Competition
Reedy 121VR-ST .21 Off-Road Comp. Nitro Engine
Extensively track-tested by Reedy factory drivers such as Ryan Maifield, Craig Drescher, Neil Cragg, and Richard Saxton, the VR-ST incorporates state-of-the-art features in a proven package.

The current 121VR engine has proven to be an economically priced, powerful race engine. The 121VR-ST (Special Tuned) takes performance to an entirely new level with the addition of a balanced ADLC-coated crankshaft, ceramic rear bearing, lightweight piston, and ADLC coated wrist pin. An ultra-lightweight heatsink head with "diamond cut" fins improves cooling while lowering the center of gravity.

The 121VR-ST is a race-proven engine that is capable of producing world-class power and fuel economy with a driver-friendly linear power band.
| | |
| --- | --- |
| Displacement: | 3.46cc Maximum RPM |
There are no replacement parts linked to this product.