Reedy Zappers 6400mAh 70C 15.2V 4S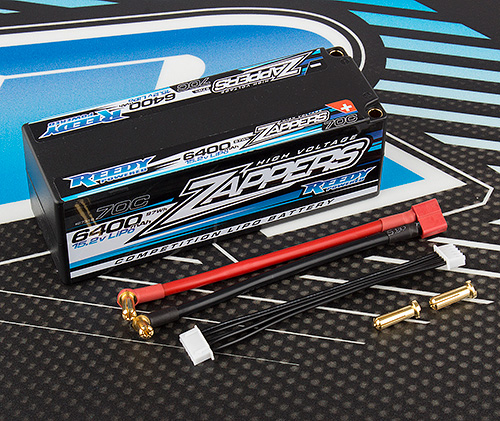 | | |
| --- | --- |
| Part # | 27312 |
| Pkg Qty | 1 |
| UPC | 784695273122 |
| MSRP | $259.99 |
| Online | $99.00 |
| Availability | Discontinued |
Features:
High voltage chemistry Flat discharge curve Low-resistance sockets XH balance port Durable hard case ROAR-legal specs
4S version for 1:8 eBuggy and eTruggy racers
Zappers batteries are now available in a 4S version for 1:8 eBuggy and eTruggy racers who are looking for maximum performance from their electronics package!

Originally referring to Reedy's proprietary NiMH voltage enhancement technology, Zappers perfectly describe Reedy's high-voltage LiPo battery chemistry. A 15.2V nominal voltage means that with a suitable charger, the battery can be safely charged to 17.4V (4.35V/cell). It is not a secret that more voltage equals more power, so there is no easier way to achieve a performance advantage than a higher charge voltage!

Even when the typical 16.8V (4.2V/cell) charging limit is enforced, the battery still offers a significant advantage thanks to a flatter discharge curve, which results in more voltage deeper into the race.

A high quality, durable hard case helps prevent damage while embedded socket connectors keep power-robbing resistance to a minimum. A charge lead, balance lead, and male ESC connectors are included.

LiPo battery technology continues to progress and Reedy is proud to bring improved performance to the masses.

#27312 contents:
qty 1 Battery
qty 1 Charge lead
qty 1 Balance lead
qty 2 5mm bullet connector
There are no replacement parts linked to this product.