SC10 4x4 FT Upgrade Kit
| | |
| --- | --- |
| Part # | 91174 |
| Pkg Qty | 1 |
| UPC | 784695911741 |
| MSRP | $69.99 |
| Sale | $13.50 |
| Availability | Discontinued |
SC10 4x4 FT Upgrade Kit
Now you can upgrade your SC10 4x4 short-course truck to the latest competition specs! This kit allows the use of a saddle-pack battery (Reedy #627) to optimize the weight distribution of the chassis. With the addition of the Factory Team carbon-fiber chassis brace rod, the chassis flex has been made more consistent and predictable for an overall improvement in handling and traction.

One of the more radical features on the SC10 4x4 Factory Team kit is now available to you - the VTS4 slipper clutch, a variable torque, multi-plate slipper clutch with four drive surfaces. The VTS4 slipper clutch provides increased torque capacity in addition to finer resolution adjustments. It all adds up to more consistent power transfer to the ground. For an upgrade in performance, get the upgrade kit!

Includes all the parts below:
Belt Cover
Rear Shock Tower
Optional Steering Rack
4x4 Chassis Brace Conversion
4x4 Saddle Pack Battery Strap
VTS Slipper Conversion
4x4 Saddle Pack Cradle
Specifications:
There are no specifications listed for this item.
This part fits the following vehicles:
Part #: 91182
MSRP: $18.99
Online: $4.00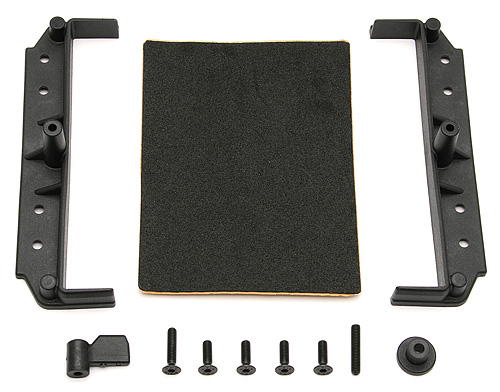 Part #: 91185
MSRP: $6.99
Online: $1.50
Not available for direct purchase.
Manuals/Documents:
There are no manuals/documents for this item.