New! 5- and 6-hole 16mm Shock Pistons
Monday, Aug 30, 2021 at 12:00am CDT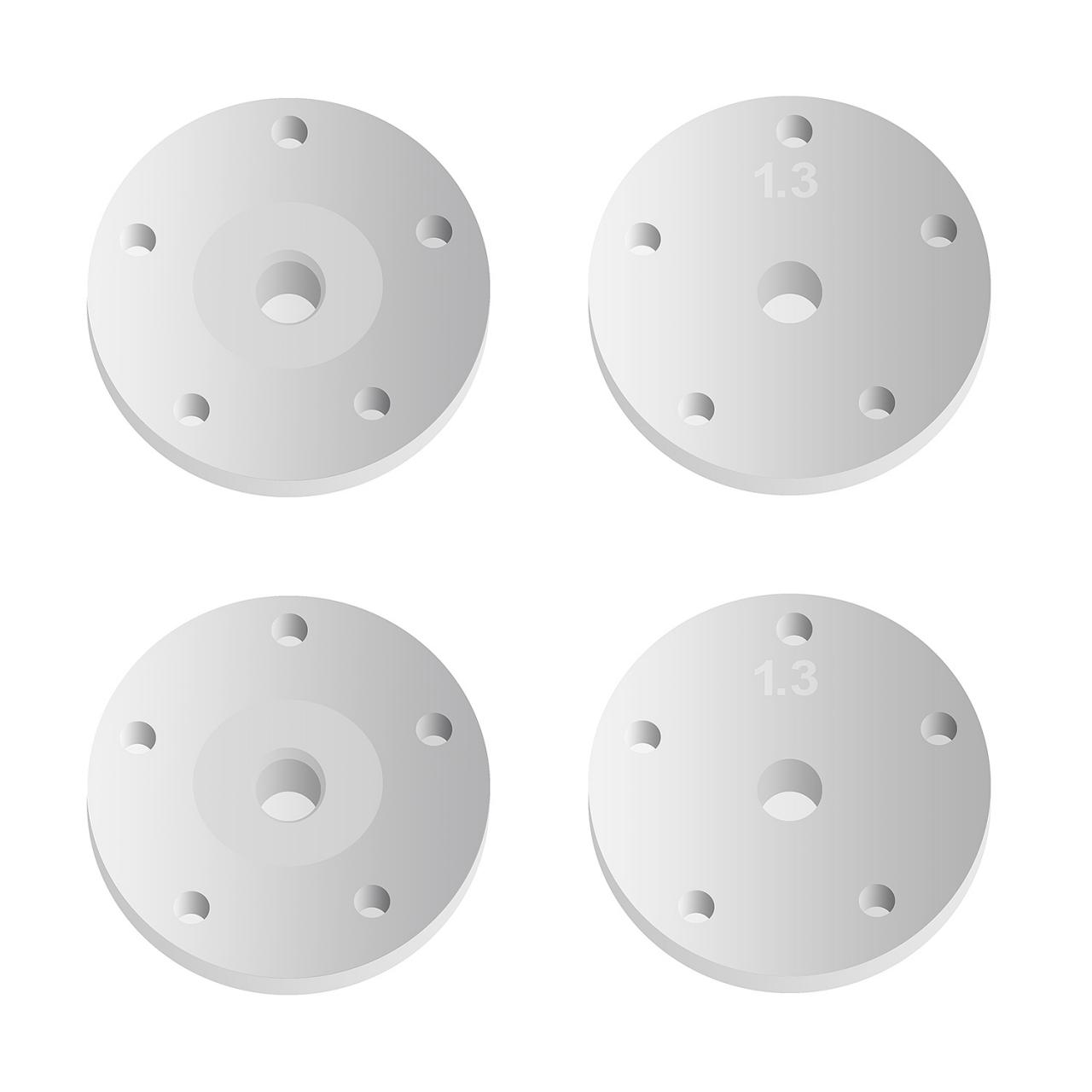 (Pictured: #81206 FT 16mm Shock Piston, 5x1.3mm, tapered)
New flat and tapered FT 16mm shock pistons for RC8B3 and RC8T3 series 16mm shocks are available now! Machined from high quality Delrin(R), they add more tuning options to dial in suspension settings.
Flat pistons have equal compression and rebound, making them ideal on smoother surfaces.
Tapered pistons have less resistance when the shaft is traveling in the direction of the taper angle. If the taper angle is set down, the piston will have less resistance in rebound and more resistance during compression. This makes tapered pistons more ideal on rough surfaces.
Fits: 16mm shock bodies for the RC8B3.2, RC8B3.2e, RC8T3.2, RC8T3.2e, and other 1:8 vehicles.
---
Pro Setup Tip
The piston holes can be drilled to larger diameters for even more tuning options:
Emulsion Shock Cap
Bladder Shock Cap
RC8B3.2 / RC8B3.2e
Front: 5x1.3
Rear: 5x1.4
Front: 5x1.5
Rear: 3x1.5 + 2x1.6 (5 holes)
RC8T3.2 / RC8T3.2e
Front: 6x1.3
Rear: 6x1.4
Front: 6x1.3
Rear: 4x1.3 + 2x1.4 (6 holes)
Above: 3x1.5 + 2x1.6 means 3 of 5 holes are 1.5mm, and 2 of 5 holes are 1.6mm diameter.
---
#81201
FT 16mm Shock Piston, 5x1.3mm, flat
UPC: 784695812017
Available now
#81202
FT 16mm Shock Piston, 6x1.3mm, flat
UPC: 784695812024
Available now
#81206
FT 16mm Shock Piston, 5x1.3mm, tapered
UPC: 784695812062
Available now
#81207
FT 16mm Shock Piston, 6x1.3mm, tapered
UPC: 784695812079
Available now
---