New! Reflex 14R Hoonitruck RTR and Lipo Combo
Thursday, Mar 9, 2023 at 12:00am CST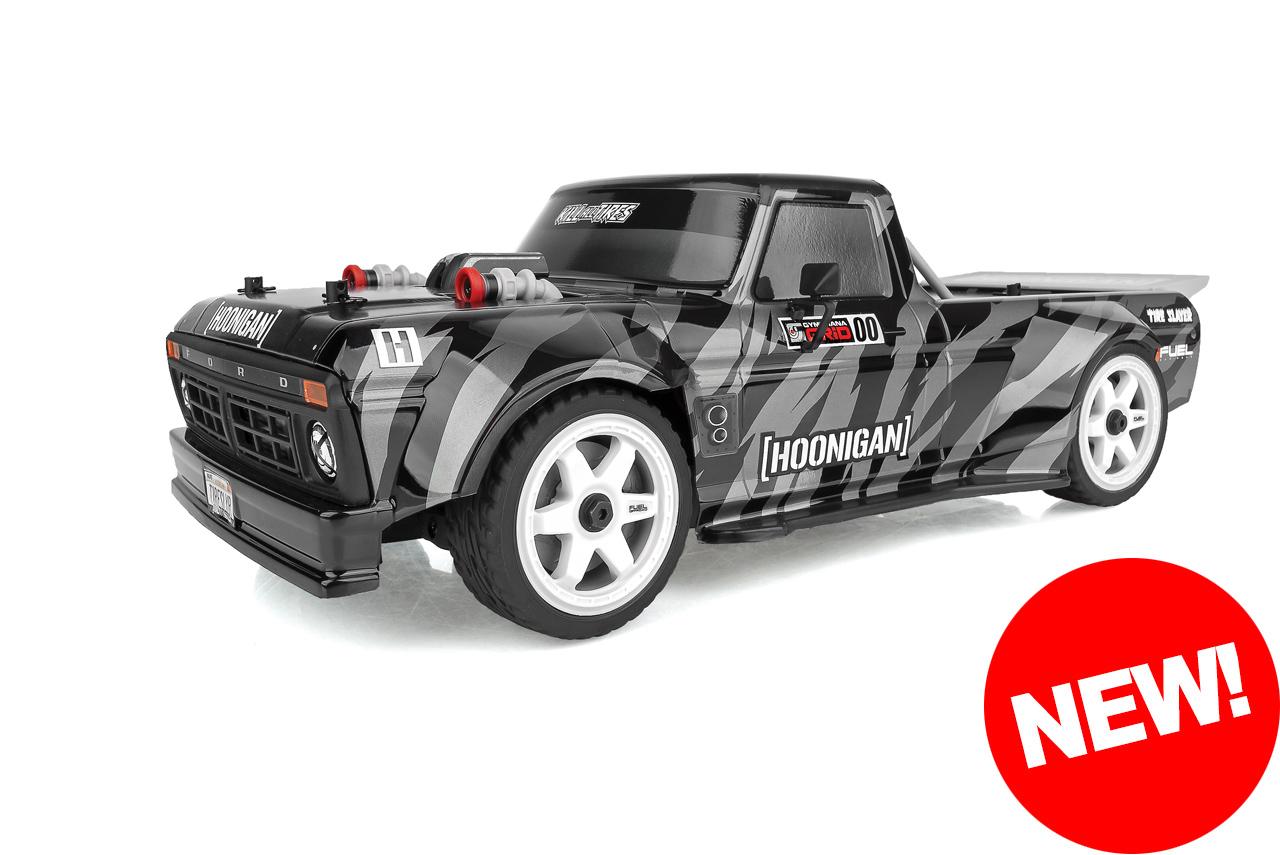 (Pictured: #20177, 20177C Reflex 14R Hoonitruck RTR and Lipo Combo.)
Team Associated is excited to partner with Hoonigan to bring you their world-famous Hoonitruck in radio-controlled form. Built on an updated and improved Reflex 14 chassis, the Team Associated Hoonigan Hoonitruck is a tire-slaying beast!
The Reflex 14R chassis has been updated from our previous version with the latest features in on-road racing. Sealed front and rear gear differentials, a molded tub chassis with covered center driveshaft, and adjustable shock positions. This makes it a perfect platform for the Hoonitruck and tire-slaying action!
Hoonigan
A person who operates a motor vehicle in an aggressive and unorthodox manner, consisting of, but not limited to, drifting, burnouts, doughnuts, as well as acts of automotive aeronautics. One who hoons.
Features
Reflex 14R with licensed Ford Hoonigan Hoonicorn
Injection-molded brake calipers and rotors with 12mm hex
2.4GHz 2-channel radio system
Reedy brushed speed control and 3-pole brushed motor
High-Torque Digital Servo with spring-style servo saver
Molded front universals and rear dog bones
Sealed front and rear gear differentials
Center spool with 58T spur (70T included) and protective cover
Molded one-piece tie rods and steering links
Adjustable body post height locations
Molded front and rear shock towers with adjustable shock positions
Coil-over shock absorbers
Molded tub chassis with covered center driveshaft
Adjustable battery tray
Aluminum center driveshaft
Foam front bumper
Serrated wheel screw with 2.0mm hex and 5.5mm nut drive
#20177
Reflex 14R Hoonitruck RTR
UPC: 784695201774
Available Early April
#20177C
Reflex 14R Hoonitruck RTR LiPo Combo
UPC: 784695983946
Available Early April
Due to ongoing R&D, photos may not match final kit. Vehicle shown on these pages equipped with items NOT included in #20177: Reedy battery.
---
Videos
---