New! Apex2 Rally Conversion Kit
Thursday, Nov 16, 2023 at 12:00am CST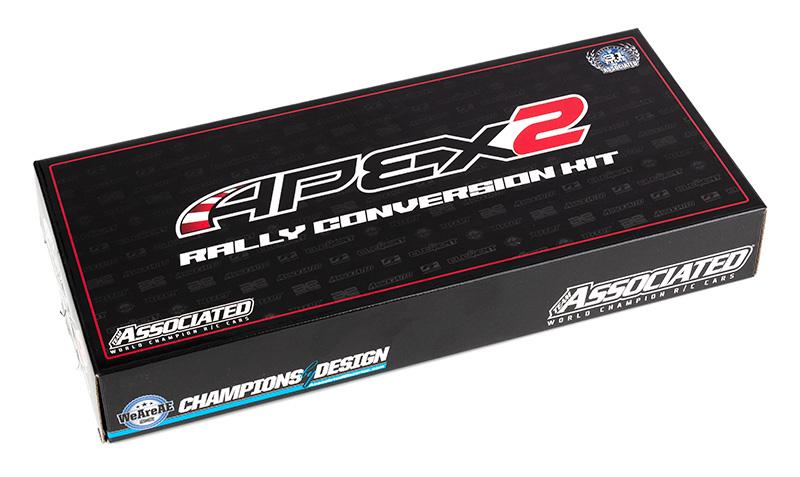 (Pictured: #31933 Apex2 Rally Conversion Kit.)
Apex2 Rally Conversion Features
Apex2 Rally Shocks. Longer shock shafts and aluminum threaded shock bodies with larger oil capacity allows the Apex2 to soak up off-road terrain in true rally fashion.
Apex2 Rally Shock Towers. Carbon fiber shock towers with tower covers allow for taller shock mounting positions for increased suspension travel.
Lower +3mm Arm Mounts. Lower +3 arm mounts widen the lower suspension by 3mm from center to provide increased stability and traction.
5.8mm Ball Stud Set. A taller set of ball studs allows for more clearance and movement for the links.
Updated Chassis: New Apex2 chassis includes chamfering for added down-travel and suspension capabilities.
Apex2 CVAs. Front CVAs for more on-power traction and more predictable driving feel.
Apex2 Center Diff Set, 72T 48P. Sealed, tunable center diff increases traction and stability on-power in off-road conditions.
This conversion kit will work on Apex2 and Apex2 Sport RTRs:
#30123-30129, #30123C-30129C
The parts are a direct fit for the Apex2 vehicles. The conversion requires fluid (not included) for the shocks and center diff.
#31933
Apex2 Rally Conversion Kit
UPC: 784695319332
Available now
| UPC | Part # | Name |
| --- | --- | --- |
| 784695314740 | #31474 | Apex2 Rally FT Shock Tower, carbon |
| 784695314757 | #31475 | Apex2 Rally Shock Bodies, aluminum |
| 784695314764 | #31476 | Apex2 Rally Shock Shafts |
| 784695314771 | #31477 | Apex2 Rally Shock Springs |
| 784695314788 | #31478 | Apex2 FT CVA Kit |
| 784695314795 | #31479 | Apex2 Rally Lower Arm Mounts, +3mm |
---
Videos
---