Team Associated Wins Five National Titles at ROAR 1:10 Electric Off-Road Nats
Wednesday, Sep 8, 2021 at 12:00am CDT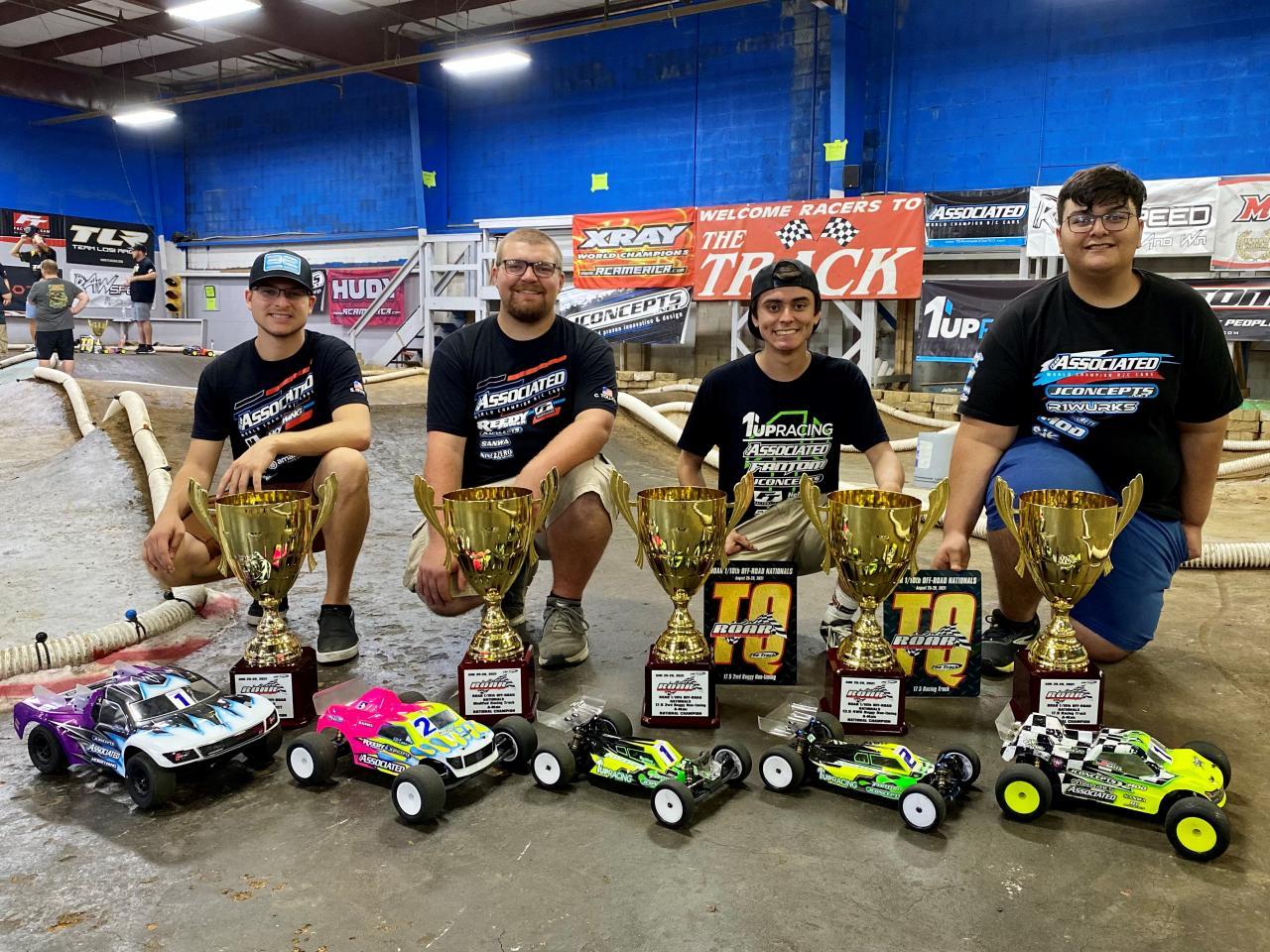 (Pictured, left to right: Spencer Rivkin, Cole Tollard, Matthew Gonzales, Davey Batta.)
After a year without racing the ROAR Nationals, the event returned for 2021 and to a familiar host, The Track in Gaithersburg, MD. A new track arrangement allowed for a larger layout and better flow through the building. The racers were greeted with a sealed, high-grip dirt racing surface. The team renewed some friendships and rivalries that had been on hiatus for over a year, and practice got underway as racers took to the track.
Throughout qualifying it was the Team Associated trio of Matthew Gonzales, Davey Batta, and Doug Lariviere that were fighting for round TQs in the spec classes with Cole Tollard, Spencer Rivkin, and Aydin Horne always near the top in the modified classes. After four rounds of qualifying, it was the RC10B74.1D and RC10T6.2 of Davey Batta who secured the 13.5T 4WD Buggy and 17.5T Stadium Truck top qualifying positions with the 1Up Racing-backed RC10B6.3D of Matthew Gonzales taking the 17.5T 2WD Buggy top qualifying position. In the modified division, Spencer Rivkin piloted his RC10SC6.2 to the top qualifying position in Modified 2WD Short Course.
As the main events kicked off, the team was ready to race! In the 17.5T 2WD Buggy class it was Matthew Gonzales and his RC10B6.3D that cruised to the National Championship by winning A1 and A2. Driving his RC10B74.1D in the 13.5T 4WD Buggy class, again Matthew Gonzales got the victory, but this time it took a victory in A3 to secure the title. After a rough start in the 17.5T Stadium Truck triple A mains, Davey Batta came back strong to take the A2 and A3 victories and rack up his second National Championship, this time driving his RC10T6.2.
In the Modified Stadium Truck class Team Associated/Reedy driver Cole Tollard took advantage of his second-place starting position to keep the pressure on Top Qualifier Dakotah Phend. With a bobble from Phend, Tollard inherited the lead and withstood a late race charge to claim the A1 victory. With the National Championship in sight, Tollard was laser focused for A2 and again found his way to the lead, but this time he had to hold off the hard-charging Ty Tessmann. Cole and his Reedy Powered RC10T6.2 were again up to the challenge and maintained a safe cushion to the final tone and crossed the finish line of A2 to claim his first National Championship!
In Modified 2WD Short Course, reigning National Champion Spencer Rivkin put on a driving clinic with his SC6.2 to secure back-to-back titles with wins in A1 and A2 to keep the Team Associated 2WD Short Course undefeated in National Competition.
With another five National Championships for Team Associated, we'd like to thank all of our fans and customers that support the products and provide feedback so that we can continue to evolve and stay on the leading edge of competition.
Associated Electrics - Champions By Design
Vehicles used
#70003 RC10T6.2 Team Kit
#70008 RC10SC6.1 Team Kit
#90028 RC10B74.1D Team Kit
Reedy products used
#27004 Blackbox 510R Sensored Competition ESC
#27444 Reedy Sonic 540-M4 Motor 6.5
#27363 Zappers SG4 6100mAh 85C 7.6V Shorty
#27203 Reedy 1416-C2L Dual AC/DC Competition Balance Charger
#27101 Reedy RT1508 Digital HV Hi-Torque Competition Servo
Associated Electrics - Champions By Design
---
Videos
---