AE takes Mod Buggy and 17.5 Buggy at the Snap Hard League
Monday, Aug 1, 2022 at 12:00am CDT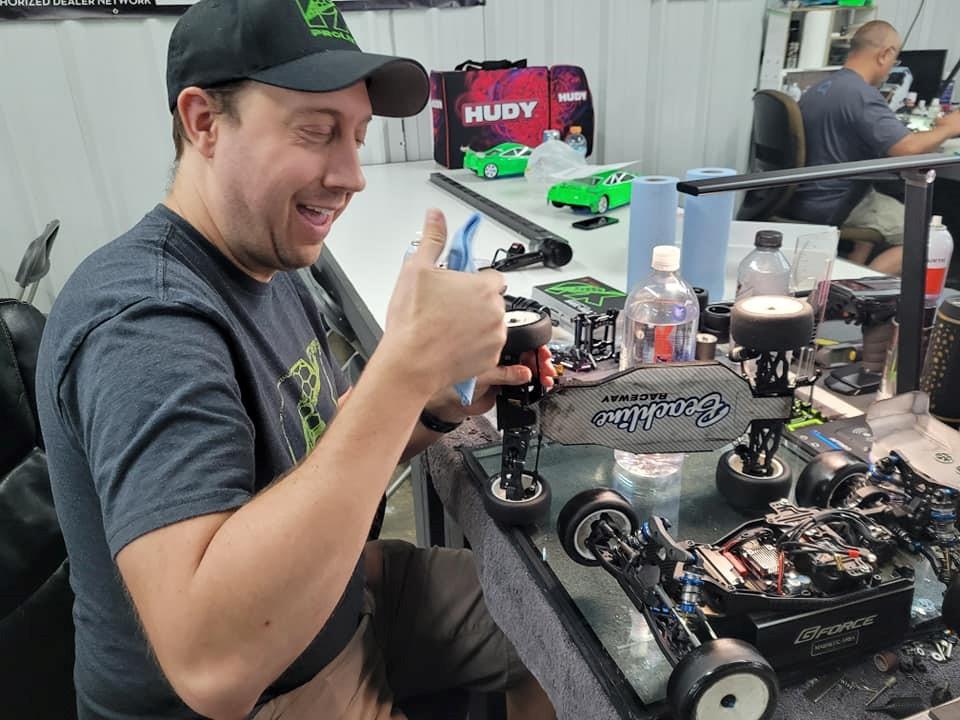 (Pictured: John Barron 2, TQ/Win 2WD Modified Buggy.
Team Associated rolled into Middle TN for the Snap Hard Race League Series #10. It's the only part of the series on high bite CRC black carpet. The class required only slicks for tires, and SXT for sauce. Apex Hobbies converted the oval into a very nice off-road carpet layout and track. Plenty of fast and technical areas to feed everyone's racing needs. This was a one-day event with classes for Novice, 2WD Buggy Mod and Stock, 4WD Mod, SCT Mod, and Mod Stadium Truck. Team Associated and Reedy Power drivers were on hand to compete, some Team drivers as well as privateers.
The event was a first for myself as I have not run Modified 2WD Buggy since around 2006, and have never run it on carpet with slicks. So this was going to be a treat for my brand new B6.3 with Reedy Power package. Running it in box stock build and blinky on my Reedy Power 510R, Reedy M2 6.0, Reedy Power Digital HV servo, and Reedy Power 3600 shorty LiPo. Entering the first qualifier, I landed in fifth place, with privateer John Barron 2 taking TQ with his B6.3 with Factory Team upgrades. In 17.5/Stock 2WD Buggy, AE/Reedy driver Brian Davis set the TQ for all to follow.
Round 2 was much of the same with myself moving up to fourth on the grid. I did take the Reedy Power 510R out of blinky and added a soft modified profile. After the final round of qualifying, JB2 sat on TQ in 2WD Mod Buggy, I was fourth, and Brian held his TQ in 17.5 Buggy.
The event called for 7-minute mains, and this would be a test for our Team Associated buggies. Brian Davis went wire-to-wire in a perfect run to secure the Stock Buggy Championship. His 17.5 S-Plus Reedy Power motor laid it down, along with his Reedy Power charger. In Modified the 4x National Champion John Barron 2 running his B6.3 with Factory Team upgrades would not be denied, as he would battle with race organizer Shon Harding and others, including myself as I held the lead for a few laps with my Reedy Power B6.3. But in the end I would settle in a nice third place and JB2 took the Championship.
This was a fun and exciting event and something I will look to do more often in the future. Team Associated vehicles took podium spots and I can see more to come. Thanks to the Snap Hard crew and the Apex crew for this event.
Products used, John Barron 2
TQ/Win 2WD Modified Buggy
RC10B6.3 with Factory Team upgrades
Products used, Brian Davis
TQ/Win 2WD Stock Buggy
RC10B6.3 with Factory Team upgrades
#27402 Reedy S-Plus 17.5 Competition Spec Class Motor
#27203 Reedy 1416-C2L Dual AC/DC Competition Balance Charger
Products used, Myron Kinnard
Third 2WD Modified Buggy
RC10B6.3
#27004 Blackbox 510R Sensored Competition ESC
Photos courtesy of Myron Kinnard.
Thanks to Myron Kinnard for this report.
Associated Electrics - Champions By Design
---