Davide Ongaro Wins 1:8 Fuel Off-Road World Championship Driving RC8B4
Monday, Sep 12, 2022 at 12:00am CDT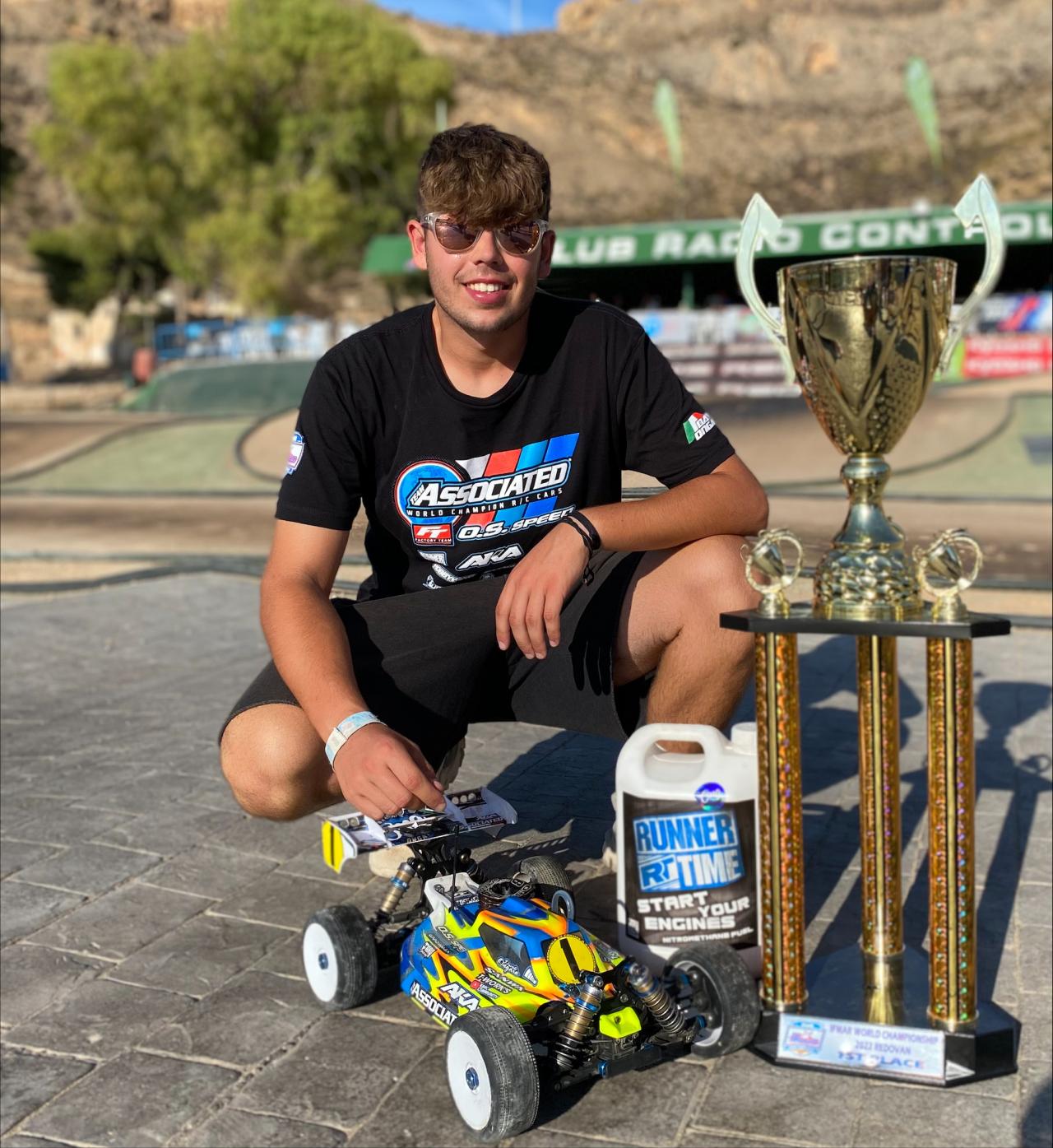 (Pictured: Davide Ongaro.)
Every two years, the world's best drivers gather to crown an IFMAR World Champion. Due to the COVID-19 pandemic, the 2020 event was cancelled, so it has been four years since the last 1:8 World Championship where Team Associated's Davide Ongaro won his first World Championship in Perth, Australia driving his RC8B3.1. With worldwide racing back in full force, the event returned in 2022 to Spain at the historic RC Redovan facility.
Throughout timed practice and qualifying, the reigning World Champion Davide Ongaro from Italy was the class of the field. With his smooth and consistent driving style shining through, he was able to earn the overall Top Qualifier position; however, he still needed to race his way into the final through the 30-minute semi-final. The pressure that is on the competitors to have a good result in the semi-final is one of the highest in all of RC. With three days of practice and three days of qualifying, without a transferring result in the semi-final, all the other results do not matter. This pressure didn't faze Davide as he went on to win his semi-final and earn the pole position for the 60-minute final. Transferring out of the quarter finals, teammate Spencer Rivkin also competed in the semi-finals, but just missed out on making his first 1:8 world championship main event.
With the preparation completed, the strategy formed, and photos taken, it was time to crown a World Champion. With a quick start, Davide was able to gap the field by almost 5 seconds before his first pit stop; playing right into his conservative fuel stop strategy. As the clock continued to tick away, challengers to Davide's lead came and went as tire performance fell off, flame-outs occurred, and crashes took their toll. Ongaro himself wasn't immune to the intense pace, suffering from multiple off-track excursions that saw 2016 IFMAR World Champion David Ronnefalk put on a late race charge that saw him lead with less than 15 minutes left in the main event. Solid pit stops and precision driving from the Italian star allowed Davide to cycle back to the lead, but with only the narrowest of margins until a mistake from Ronnefalk with about 10 laps remaining opened the gap that Ongaro would never let close. Earning a victory lap on his way to becoming the first two-time IFMAR 1:8 World Champion, Ongaro got to soak in the electric atmosphere seen only at an event of this magnitude. Bravo Davide and congratulations on making history and earning Team Associated's 31st IFMAR World Championship!
Not only is Davide World Champion, he is a 2-time World Champion in a category that has never seen a back to back champion, etching his name in the history books!
Main Final - https://youtu.be/oNXH5EBn7nk
Semi Final A - https://youtu.be/4oLIQtvw6B4?t=14708
Semi Final B - https://youtu.be/4oLIQtvw6B4?t=17120
Products used
#80945 RC8B4 Team Kit
Associated Electrics - Champions By Design
Team Associated IFMAR World Championship Titles
---