Hohwart TQs and Wins CTS Round 2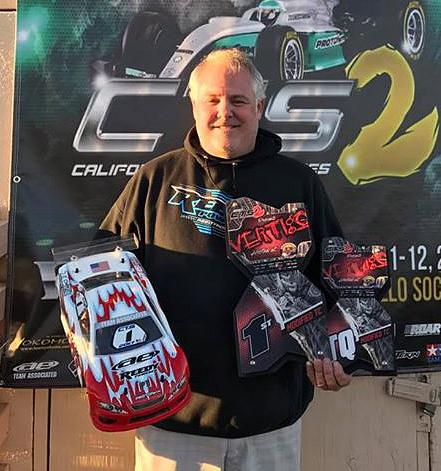 The 2017 California Touring Series round 2 (CTS2) visited Freedom Park Raceway in Camarillo for the second round of the championship. A healthy turnout of over 100 entries (27 in Modified TC alone) were on hand at the historic facility which has been in operation for over 30 years! Series organizer Lex Tyler and the Roadrunners R/C Club created a challenging track configuration and maintained a well-organized and exciting race program.
Rick Hohwart, fresh off his Round 1 win, struck first by setting the fastest time in Q1 just ahead of reigning series champion Eric Albano and teammate Randy Caster. In Q2, Rick dropped his time by five seconds to claim the pole postion while teammate Randy Caster jumped up to second to make it a 1-2 start for the duo and their Reedy-powered TC7.1s. Eric Albano rounded out the top three.
The field got away clean at the start of the main but after a couple of laps Randy dropped back, with Albano moving into second. Rick continued to stretch his lead and crossed the line to take his second consecutive series win. Albano crossed the line in second with EJ Evans hot on his tail in third.
Next up -- Tamiya Raceway in April where Rick looks to extend his series lead and move one step closer to the title.
Many thanks to Lex Tyler for organizing an outstanding event and to the Roadrunners R/C Club for providing the first-class racing facility!
Products used
#30121 TC7.1 Factory Team
#265 Reedy Sonic 540-M3 Motor 5.0 Modified
#27005 Blackbox 510R Competition ESC w/PROgrammer 2
#27108 Reedy RS0806 LP Digital HV Hi-Speed Competition Servo
#27200 Reedy 1216-C2 Dual AC/DC Competition Balance Charger
#27309 Reedy Zappers LiPo 6000mAh 100C 7.6V LP Stick
Photos courtesy of CTS.
Check out our Factory Team Spotlights!

---