Blackbox 410R 1S-2S Competition ESC w/PROgrammer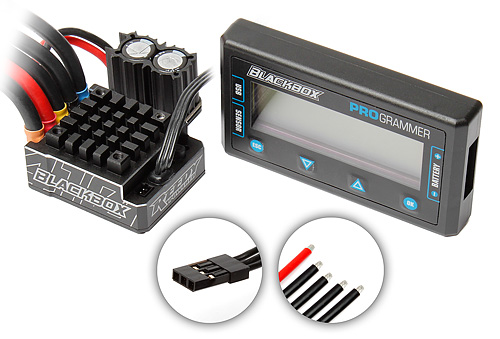 | | |
| --- | --- |
| Part # | 27001 |
| Pkg Qty | 1 |
| UPC | 784695270015 |
| MSRP | $349.99 |
| Online | $226.99 |
| Availability | Discontinued |
Features:
CNC-machined black aluminum case with integrated heat sink Fully adjustable brake, throttle, power, and safety functions Eight pre-programmed, customizable profiles Blinky mode with ROAR-approved software Precision throttle and brake control Speed sensitive drag brake function Ultra-low resistance FET board 12-gauge power wires Push button On/Off switch Heavy-duty external capacitor board Built-in voltage booster for 1S applications RPM data logging Firmware updateable
Blackbox 410R 1S-2S Competition ESC w/PROgrammer
The long-anticipated and highly developed Reedy Blackbox 410R ESC is now available to racers worldwide. Extensive track testing by Reedy's engineers and racing team has resulted in a high performance, high quality, and reliable ESC suitable for all levels of competition. A focus on excellent throttle and brake feel, precision adjustability, and robust hardware make the Blackbox 410R suitable for a wide range of racing applications.

With the Blackbox PROgrammer, the full potential of the ESC can be exploited. In addition to working as a programming device to fine-tune the eight pre-installed profiles, the PROgrammer operates as a data logger, battery monitor, and USB firmware update device.
| | |
| --- | --- |
| Voltage input: | 3.7 - 7.4 / 1-2 LiPo On resistance (ohms) |
Blank Setup Sheets:
Team Driver Setup Sheets:
Download
Driver
Track
Date
Download
Keven Hebert
2017 International Indoor Championships (IIC)
10/06/2017
12R6 - high grip carpet
Download
Rick Hohwart
2017 International Indoor Championships (IIC)
10/06/2017
12R6 - high grip carpet
Download
Brent Thielke
Baseline
04/06/2016
AE B44.3 - Modified - Indoors, medium to high grip - 65F
Download
Keven Hebert
2016 Canadian Nationals
03/19/2016
AE 12R5.2 - 13.5 Blinky - Med grip carpet - indoor
Download
Frank Bortolazzo
WCICS Leg 7
03/06/2016
Awesomatix A800 - 17.5 Blinky - Med/high grip carpet - indoor
Download
Keven Hebert
2016 Snowbird Nationals - Super Stock 13.5 TC
01/31/2016
AE TC7 - 13.5 Blinky - High grip carpet - indoor
Download
Ruggero Zanusso
Testing
01/09/2016
AE TC6.2 - 13.5 Blinky - Medium grip carpet - indoor
Download
Brent Thielke
Baseline
12/22/2015
AE B5M - Modified - Indoors, medium to high grip - 65F
Download
Spencer Rivkin
2015 IFMAR 2wd Off-Road World Championships
10/06/2015
AE B5M - Modified - Astroturf high grip - 70F
Download
Rick Hohwart
2015 ROAR On-Road Nationals
09/13/2015
AE TC6.2 - Modified - Asphalt medium grip - 90F
Download
Keven Hebert
2015 ROAR On-Road Nationals
09/13/2015
AE TC6.2 - 13.5 SS - Asphalt medium grip - 90F
Download
Kody Numedhal
Pro-Line Cactus Classic
08/30/2015
Indoors, clay, damp to drying, some dust, medium to high grip
Download
Vinny Formosa
Testing
07/26/2015
World GT - 10.5 Timing - Carpet medium grip
Download
Ray Munday
2015 Victorian Titles
06/06/2015
AE B5M - Modified - Outdoors, high-grip - 20C
Download
Rick Hohwart
2015 Reedy TC Race of Champions
05/24/2015
AE TC6.2 - Modified - Asphalt med/high grip - 75F sunny
Download
Kody Numedahl
2015 OCRC Stock Nationals
04/26/2015
AE B5M Factory Lite - 17.5 Blinky - Indoors, high grip
Download
Spencer Rivkin
JConcepts Stock Nationals
04/26/2015
AE B5M & T5M - 17.5 Blinky - Indoors, medium to high grip - 68F
Download
Keven Hebert
2015 Mile High Indoor Championships
04/19/2015
AE 12R5.2 - Carpet, high grip
Download
Kurt Wenger
Club Race
03/05/2015
AE B5M - 17.5 Blinky - Indoor med/high grip
Download
Keven Hebert
2015 ROAR Carpet Nationals Warmup
03/01/2015
AE TC6.2 - Modified - Carpet high grip
Download
Nick Wautlet
Club Racing
02/13/2015
High bite, indoor
Download
Michael Schoettler
JConcepts Winter Indoor Nationals
02/08/2015
AE B44.3 - Modified - Indoors, medium grip - 60F
Download
Brent Thielke
JConcepts Winter Indoor Nationals
02/08/2015
AE T5M - Modified - Indoors, clay, medium grip - 60F
Download
Kurt Wenger
2015 Reedy Off-Road race of Champions
01/25/2015
AE B5M - Modified - Indoior med/high grip
Download
Brent Thielke
Club Racing / Testing
12/17/2014
AE B44.3 - Modified - Indoors, medium high grip - 65F
Download
Rick Hohwart
Speedtech GCR #9
10/25/2014
AE TC6.2 - Modified - Asphalt med/high grip - 75F sunny
Download
Rick Hohwart
2014 ISTC World Championships
10/12/2014
AE TC6.2 - Modified - Asphalt med/high grip - 85F
Download
Bob Stellflue
2014 Dennis Lyman Memorial
09/07/2014
AE TC6.2 - 13.5 - Asphalt med/high grip - 85F sunny
Download
Rick Hohwart
2014 Dennis Lyman Memorial
09/07/2014
TC6.2 - Modified - Asphalt med/high grip - 85F sunny
Download
Walt Henderson
Testing
09/01/2014
AE 12R5.2 - 17.5/13.5 Blinky - Carpet med/high grip
Download
Sean Cochran
Testing
09/01/2014
AE TC6.2 - 17.5 Blinky - Asphalt med/high grip - 85F
Download
Rick Hohwart
2014 ROAR Paved On-Road Nationals
08/03/2014
AE TC6.2 - Modified - Asphalt medium grip - 90F sunny
Download
Sean Cochran
Club Race
07/23/2014
AE B5M - 17.5 Blinky - Indoor med/high grip
Download
Brent Thielke
Hot Rod Hobbies Shootout
07/20/2014
AE B5M - Modified - Outdoor blue-groove - 90F
Download
Rick Hohwart
2014 ISTC Worlds Warmup
04/05/2014
AE TC6.2 - Modified - Asphalt med/high grip - 80F sunny
Download
Kevin Hebert
Testing
01/08/2014
AE 12R5.2 - Modified - Carpet high grip
Download
Rick Hohwart
2013 IIC
10/12/2013
AE 12R5.2 - Modified - Carpet med/high grip