Reedy Blackbox 1000Z+ Competition ESC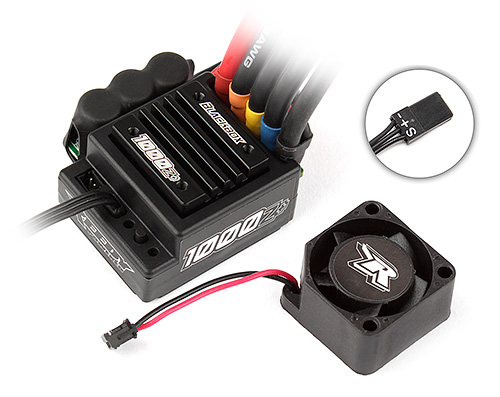 | | |
| --- | --- |
| Part # | 27003 |
| Pkg Qty | 1 |
| UPC | 784695270039 |
| MSRP | $206.99 |
| Online | $129.99 |
| Availability | Discontinued |
Features:
Lightweight plastic case with compact footprint Heat sink with cooling fan Fully adjustable brake and throttle functions On-board, single-button programming Zero-timing ROAR-approved software Timing options for Modified racing Low-resistance circuitry Precision throttle and brake control Solder tabs for easy wire placement 13-gauge power wires Compact external capacitor board Firmware updateable Competition proven
Reedy Blackbox 1000Z+ Competition ESC
Reedy's Blackbox 1000Z+ is a simple-to-use, economical, and powerful ESC that features timing options for Modified class racers as well as zero-timing blinky mode for Spec class racers. Excellent throttle and brake feel, a wide range of adjustability, and robust hardware make the Blackbox 1000Z+ suitable for a variety of racing applications.

Adjustable Settings

Drag Brake - Adjust automatic braking strength when the throttle trigger is returned to neutral.
Brake Frequency - Create a smoother or more aggressive brake feel.
Maximum Brake Strength - Increase or reduce the ESC's maximum braking power.
Power Profile - Increase or decrease "punch."
Drive Frequency - Create a smoother or more aggressive throttle feel.
Timing - Select the amount of timing fed to the motor to increase power and top speed.
Operation Mode - Select Forward/Brake (F/B) or Forward/Brake/Reverse (F/B/R) operation.
Restore Default - Restore the factory default settings.
| | |
| --- | --- |
| Voltage Input: | 2S LiPo On Resistance (Ohm) |
Team Driver Setup Sheets:
Download
Driver
Track
Date
Download
Brent Thielke
Club Race
08/09/2016
AE B6 - Modified - Indoors, high grip