Diff Kit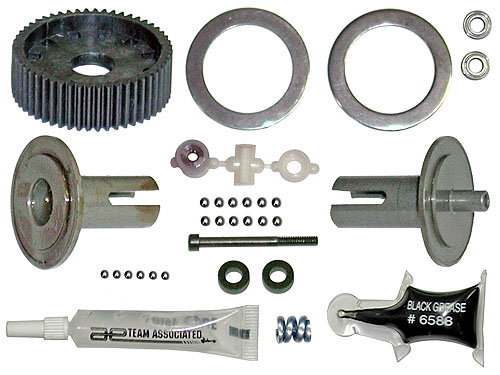 | | |
| --- | --- |
| Part # | 7678 |
| Pkg Qty | set |
| UPC | 784695076785 |
| MSRP | $39.95 |
| Availability | Discontinued |
The following items will work as a direct replacement
Diff Gear, 52T, 2.60:1
Diff Drive Rings, 2.60:1
Diff Outdrive Hub, right
Diff Kit
This has been discontinued. See the Parts tab for suggested alternate(s).

Used on the original version of the B4, T4, SC10, and GT2 that have the SAE bearing in the transmission for the outdrives. Outdrive bearing is 3/8 x 5/8.
This will not work with the newer versions of SC10 and SC10.2, B4.1 and B4.2, T4.1 and T4.2, and SC10B without changing the transmission case and outdrive bearings. For the newer version, use #9853 SC10 Diff.
Specifications:
There are no specifications listed for this item.
Manuals/Documents:
There are no manuals/documents for this item.